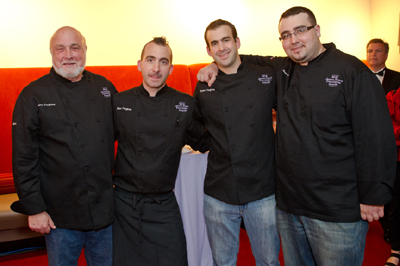 The Kravis Center for the Performing Arts will host its celebrated annual Palm Beach Wine Auction on Thursday, Jan. 31, 2013, at the Mar-a-Lago Club (1100 S. Ocean Blvd., Palm Beach).
Some 200 friends and supporters are expected to attend this invitation-only event that sells out every year and has raised more than $1.5 million to support the Kravis Center's award-winning education programs that have served more than 1.7 million children to date.
In collaboration with the James Beard Foundation, one highlight of the upcoming Palm Beach Wine Auction will be the culinary participation of four celebrity chefs: the world-renowned, James Beard Foundation award-winning chef Larry Forgione, hailed as "the godfather of American cuisine," who was named Chef of the Year by the Culinary Institute of America, and his three talented sons: Iron Chef Marc Forgione, winner of the third season of The Next Iron Chef and Star Chef's Rising Star of the Year in 2010; Bryan Forgione, chef de cuisine at Society Café at Encore Las Vegas; and Sean Forgione, who works in the kitchens of Wynn Las Vegas. They will be hosted by Mar-a-Lago's Executive Chef Aaron Fuller.
Palm Beach Wine Auction founder and chair Ted Mandes, who is also a member of the Kravis Center's board of directors, emphasizes that the event's mission is to "share the cultural wealth" by further advancing and broadening the scope of the educational experience of our youth.
"It is not just a cause, but an ongoing obligation," he said. "The annual Palm Beach Wine Auction provides us the opportunity to involve the entire community and create awareness of the Kravis Center's education programs that are so vital to our youth today."
Mandes is the visionary behind the event. "The secret behind our event's considerable appeal is the simple fact that we stay true to our original vision — to remain small and high-end no matter how great the pressure to do otherwise," he said. "Truly, our upcoming 2013 Palm Beach Wine Auction will be every bit as glamorous as previous editions, only more so because this year we have so much to celebrate!"
"Whether you call it élan, cachet, panache, esprit or je ne sais quoi, I can tell you from first-hand experience there's something indisputably unique about the Palm Beach Wine Auction," said event supporter and longtime Palm Beach resident David Hamilton. "Redolent with good cheer (and here I'm not referring to the effect of the delicious wines), the Palm Beach Wine Auction rivals a glowing evening right out of La Belle Époque."
The 2013 Palm Beach Wine Auction will start with a reception at 6 p.m. at Mar-a-Lago, followed by an elegant five-course dinner and wine auction. The ticket price is $1,000 per person.
For more information, visit www.palmbeachwineauction.org. For more information about the James Beard Foundation, visit www.jamesbeard.org.
ABOVE: Larry Forgione and sons Marc, Bryan and Sean.