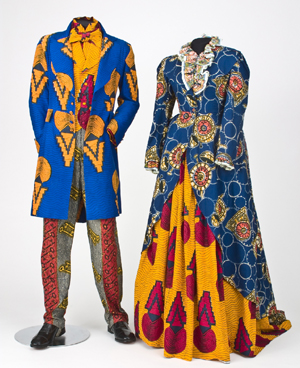 The Norton Museum of Art has announced the opening of "Say it Loud: Art by African and African-American Artists in the Collection" Thursday, Dec. 27 at 5 p.m., during Art After Dark.
The exhibition, which runs through March 3, includes dozens of paintings, sculptures, photographs and works on paper spanning much of the past 100 years.
"This exhibition celebrates the diversity of the museum's collection, and features more than 20 artists working in a variety of media and representing an array of styles, ideas, and issues inspired by personal and artistic concerns," Norton Executive Director Hope Alswang said.
Among the works in the exhibition will be rarely seen photographs by James Van Der Zee and Gordon Parks, sculpture by Augusta Savage, paintings by Jacob Lawrence and Charles Henry Alston, and contemporary works by Nick Cave, Al Loving, Faith Ringgold, Yinka Shonabare, Mary Sibande, Kara Walker and others. (Ringgold is scheduled to discuss her life's work as artist, activist, author and teacher Sunday, Jan. 20 at 4 p.m. at the museum.)
The Dec. 27 edition of Art After Dark, the Norton's Thursday night series "where culture and entertainment meet," will have a distinctly "Say it Loud" theme. Greg Jackson and the Mojo Band will rekindle the Motown sound as well as the songs of James Brown, Otis Redding and other soulful and funky classics from the 1960s and 1970s. Multi-instrumentalist Dave Harris will deliver exhilarating blues licks on guitar, harmonica and keyboards. The evening also will include tours of "Say it Loud" and other exhibitions, art activities for all ages, and a menu from Café 1451.
The Norton Museum of Art is a major cultural attraction in Florida, and internationally known for its distinguished permanent collection featuring American art, Chinese art, contemporary art, European art and photography.
The museum is located at 1451 S. Olive Ave. in West Palm Beach, and is open from 10 a.m. to 5 p.m. Tuesday, Wednesday, Friday and Saturday; 10 a.m. to 9 p.m. Thursday; and 11 a.m. to 5 p.m. Sunday. It is closed on Mondays and major holidays.
General admission is $12 for adults, $5 for students with a valid ID, and free for members and children age 12 and under. Special group rates are available. Palm Beach County residents receive free admission the first Saturday of each month with proof of residency.
For additional information about the exhibit "Say it Loud," call the museum at (561) 832-5196 or visit www.norton.org.
ABOVE: Victorian Couple by Yinka Shonibare.