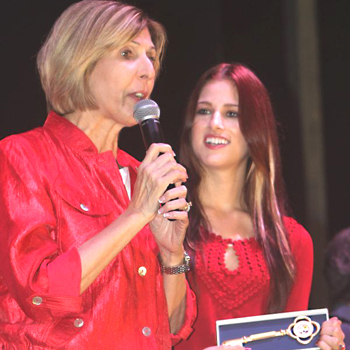 The Wellington Preservation Coalition congratulates The Voice's Cassadee Pope. The Wellington resident returned to West Palm Beach last Thursday for her "Hometown Visit" to perform at the expanded Clematis by Night. The evening paid tribute to numerous holiday festivities, vendors and songs.
Although the skies opened for a torrential downpour, the fans did not dwindle as they awaited Pope's arrival. The singer brought in a crowd in the hundreds, performing The Voice favorites "Torn" and "Over You."
Pope also performed her favorite holiday classic, "Oh Holy Night," and concluded with the opening track from her solo self-titled EP, "Original Love." Pope's entire band was introduced to the crowd, which consisted of her "West Palm homies," including bandmates from her previous band, Hey Monday.
Even though Pope has received an immense amount of publicity and success from The Voice, it was clear as she took the stage that she was still humbled by her adoring fans.
West Palm Beach Mayor Jeri Muoio presented Pope with a key to the city, and the pair stood tall as they watched lights illuminate the 40-ton sand holiday tree standing 35-feet tall.
"I moved to L.A. about a year and a half ago to pursue my solo career, but there is nothing like coming home to West Palm Beach," Pope said. "It will always be home for me."
Pope has been a lifelong resident of Palm Beach County. She attended St. Anne's School in downtown West Palm Beach for her middle school years, and later attended Wellington High School. Many of her fans at the Clematis by Night show made the trip from Wellington to support their choice for the winner of The Voice.
NBC's The Voice will continue Monday, Dec. 17. The season finale will air Tuesday, Dec. 18, and the winner will be announced.
For more information about the Wellington Preservation Coalition, or to get involved, call Tom Wenham or Assistant Director Gladys Ferrer at (561) 333-9843, e-mail tom@preservewellington.org or visit www.preservewellington.org.
Above: West Palm Beach Mayor Jeri Muoio presents Cassadee Pope with a key to the city.