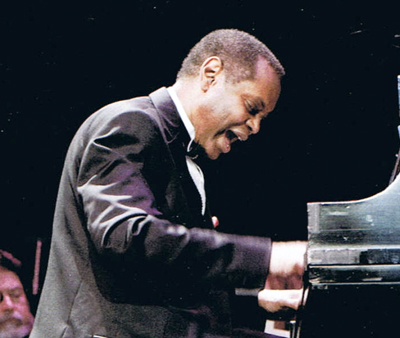 Versatile, renowned pianist Copeland Davis has lived in numerous places from Las Vegas to Massachusetts, but he plans to remain in Royal Palm Beach, the place he has called home for several years now.
"It's a great community," Davis told the Town-Crier. "I lived in Broward County for a long time, then we moved away to Las Vegas and came back, and then we moved to Newburyport, Mass."
About 11 years ago, Davis was contacted by the now-defunct Crestwood Performing Arts League to come down and do a few shows in Royal Palm Beach. "I came down a few times, and after being here I kept thinking, 'Gee, this is the nicest neighborhood. I like it,'" he recalled.
He shared his thoughts with his wife, Mary. "It's very homey. It kind of reminds me of Newburyport, and it kind of reminds me of the quaintness of Lighthouse Point, where we lived before," Davis said. "Of course, it's cosmopolitan here, and that's why we chose to live here."
Davis still travels all over the country performing, but he has a local show coming up. "The Best of Copeland Davis" will feature a collection of popular music including jazz, rock, blues and classical at the Eissey Campus Theatre on Palm Beach State College's campus in Palm Beach Gardens on Saturday, Jan. 26 at 8 p.m.
"These are going to be songs that people are most familiar with," he said, adding that it will start off with a bit of jazz such as "Fly Me to the Moon" and "Take Five" by the late Dave Brubeck. "Then we move into more popular music like rock, and I always throw in a piece of classical music somewhere."
One of his favorite rock songs is Bobby Caldwell's "What You Won't Do for Love."
"As far as classical music, I don't know," Davis said. "It could be a Beethoven piece, or it might even be Chopin. Generally, I do it as a solo and let the guys leave the stage."
He always includes some blues. One of his favorites is "Rock Me Baby."
"It's going to be a pretty big group for the type of thing I do," he said. "This group will be 12 pieces including myself."
The rhythm section will include his original bassist, Beau Bonaparte. "He is a bass player who has worked with me since the 1970s," Davis said. "I just got reunited with him, so I'm excited about that."
The horn section will be six pieces, with two trumpets, a trombone and three saxophones. The contractor for that section is Jody Marlow, founder of Brass Evolution, a group that does numerous performances locally. "He lives out here in Wellington," Davis said. "We've done this before with Jody, and he's just absolutely wonderful to work with."
The rhythm section will be enhanced by Latin percussionist Nelson Colon, who plays congas and all non-pitch percussion. "When we worked with him the last time, we had to put him on his own little platform, he had so much stuff," Davis said. "The last time we did this, the audience just had a ball. We do a lot of audience participation. It's going to be a lot of fun."
Davis was pianist in residence for the Florida Sunshine Pops before they disbanded last season but is still doing orchestral performances, including one in January with the Space Coast Pops in Cocoa. "I've been working with them for several years," he said.
In February, he will perform with the Indian River Pops, also at the Eissey Campus Theatre.
Davis is still composing and arranging, and headed this week to Chicago for a seven-piece performance at the Allerton Hotel on Friday, Dec. 14. The event is a tribute to Jonny Imerman and the Imerman Angels, a cancer-mentoring group. "They pair cancer survivors with people who have the same type of cancer," Davis explained. "It's a wonderful organization. That should be a lot of fun."
For more information about Davis, visit www.copelanddavis.com.
For tickets to the Jan. 26 concert, call the box office at (561) 207-5900 or visit www.palmbeachstate.edu/theatre/eissey-campus-theatre.
ABOVE: Virtuoso Copeland Davis at the piano.