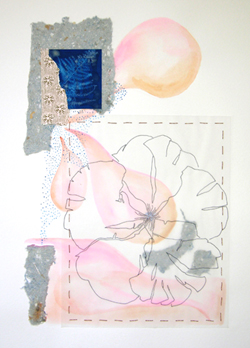 The Cultural Council of Palm Beach County has announced its latest solo exhibitions, a collection of original mixed-media works by Kristin Miller Hopkins and original paintings by Melinda Trucks. The exhibits are open now and run now through Dec. 29 at the Cultural Council's headquarters (601 Lake Ave., Lake Worth).
Thinking deeply into her heritage during her last trimester of pregnancy, Hopkins' mixed-media collages represent abstract wonderings and wanderings of ideas surrounding family trees and the concept of nature versus nurture. Hopkins pondered on the future of her child, as well as her past generations, and began to construct delicate collages influenced by trees and sea life. She believes nature around us gives us information on our physical world in the same way that our families give us information on our bodily world.
"Hopkins' work is elegant, tactile and delicate, and her personal themes will speak to viewers," said Rena Blades, president and chief executive officer of the Cultural Council.
Hopkins earned a master's degree from the Visual Studies Workshop in Rochester, N.Y., and a bachelor's degree in studio art from Florida State University. She is currently an associate professor of art and design at Palm Beach State College.
Hopkins has exhibited her installations, artist's books, photography and mixed media works in various spaces nationally. Some past exhibitions have been shown at Art Palm Beach in West Palm Beach; "Outside the Box" at Whitespace Collection in West Palm Beach; "6 X 6 Global" at Rochester Contemporary Art Center in Rochester, N.Y.; "Bookmarks Part VI" at the Centre for Fine Print Research in Bristol, England; and "To Have and To Hold: Artist Books You Can Touch" at the Minneapolis Center for the Book in Minneapolis, Minn.
More of Hopkins' work may be seen at www.kristinmillerhopkins.com.
Trucks' inspiration for art began at an early age while immersed in the rich and vibrant landscape of the Great Smoky Mountains. Surrounded by the arts with her grandmother's weaving and her uncle's penchant for painting on the back porch, Trucks was encouraged to pursue her artistic passion. Her bodies of work in this exhibition, both women and landscapes, are layered with expression, painted with a controlled gesture that defines her style and illustrates her experience as a painter. The landscapes are often captured in plein air, as her uncle used to paint. Trucks' recent travels have expanded her interest in women of various cultures throughout the world and are reflected in her recent canvases.
"Melinda Trucks' paintings are expressive, and her images reflect experiences in Palm Beach County as well as her extensive travels and research," Blades said.
Trucks received classical training in studio art at the University of Tennessee in Knoxville, Tenn., and earned a bachelor's degree in art education there; she earned a master's degree in painting at Florida State University's School of Visual Arts in Tallahassee.
Throughout her extensive career, Trucks has exhibited paintings at the Lighthouse Center for the Arts in Tequesta; the Boca Raton Museum of Art in Boca Raton; the Spike Gallery in New York City, N.Y.; the Society of the Four Arts in Palm Beach; the John McEnroe Gallery in New York City; the Webb School of Knoxville in Tennessee; and the Galleria Vialarga in Florence, Italy.
She has held various teaching positions in Tennessee and Florida, including two posts as adjunct professor — at the Tallahassee Community College School of Visual Arts in Tallahassee and at Florida State University's School of Visual Arts, also in Tallahassee.
More of Trucks' work may be viewed on her web site at www.melindatrucks.com.
Artists interested in learning more about the Palm Beach County Cultural Council's solo exhibitions are asked to contact Nichole M. Hickey, the cultural council's artists' services coordinator, at (561) 472-3336 or nhickey@palmbeachculture.com.
For more information on the Palm Beach County Cultural Council, visit www.palmbeachculture.com.
ABOVE: Family Trees, a mixed-media piece by Kristin Miller Hopkins.