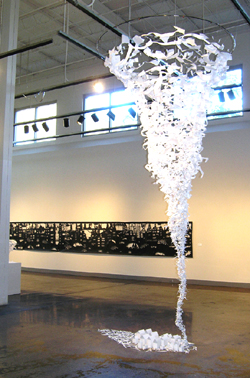 Florida Atlantic University's University Galleries in the Dorothy F. Schmidt College of Arts and Letters present "Papercuts," an exhibition featuring seven international artists, from Friday, Jan. 18 through Saturday, March 2. The exhibition will be presented in the Ritter Art Gallery at the school's Boca Raton campus (777 Glades Road).
To kick off the exhibition, there will be a gallery talk with participating artist Reni Gower on Friday, Jan. 18 at 7 p.m. The exhibition, gallery talk and other related public programs are free and open to the public.
Born in Australia, France, the Czech Republic, Canada and the United States, the artists in "Papercuts" — Jaq Belcher, Béatrice Coron, Michelle Forsyth, Reni Gower, Lenka Konopasek, Lauren Scanlon and Daniella Woolf — bring a broad range of contemporary perspectives to the art of paper cutting. The artists manipulate, bend and cut paper, creating unique works ranging from visual narratives to complex sculptural abstractions. Their works, some bold and some subtle, celebrate nuance, handmade craft and a process that traces its origins back to sixth century China. Light, shadow and color play key roles, transforming this ancient technique into a dynamism filled with delicate illusions.
Each artist contributes a unique sensibility within a complex (often installation based) construct that has hand cut paper at its core. Whether manifested as silhouettes, romanticized fictions, enigmatic reenactments, cryptic scripts or poetic abstractions, the artists address historical, cultural and personal identity. By encrypting their content through arduous and obsessive processes — cutting, rolling, punching, folding, pinning — these meditative works are charged with narrative, metaphor and beauty.
"The works in the exhibition are poetic interplays of light and shadow laboriously cut by hand," said Reni Gower, curator of the exhibition.
In association with both "Papercuts" and a concurrent exhibition titled "Pour" in FAU's Schmidt Center Gallery, the University Galleries will present a Family Day event on Saturday, Feb. 16 from 1 to 3 p.m. The event will consist of brief interactive exhibition tours and follow-up, hands-on activities for children as well as a "community pour," a huge painting to be made by event attendees simultaneously pouring paint.
The University Galleries are open Tuesday through Friday from 1 to 4 p.m., and Saturday from 1 to 5 p.m. Visitors must obtain a $2 parking pass or employ the limited metered parking before visiting the galleries. More extensive parking directions are available online at www.fau.edu/galleries. The galleries operate an active Museum Education Program that is approved as a Field Experience Provider by the School District of Palm Beach County. Class and other group tours can be arranged both during and at times other than the galleries' public hours.
The "Papercuts" exhibition was organized as a traveling exhibition by Reni Gower, associate professor of art at Virginia Commonwealth University. Prior to its presentation at FAU, the exhibition was presented at Georgia State University in Atlanta, Ga.; Columbus State University in Georgia; Herron School of Art and Design in Indianapolis, Ind.; and will be presented later at Hollins University in Roanoke, Va.; and University of Akron in Akron, Ohio.
University Galleries programs are made possible in part by the Cultural Council of Palm Beach County, the R.A. Ritter Foundation and Beatrice Cummings Mayer. The exhibition is also sponsored in part by the School of the Arts at Virginia Commonwealth University. Museum Education Programs are made possible in part by the Kaye Integrative Arts Endowment.
For more information on the exhibition, visit www.fau.edu/galleries.
ABOVE: Lenka Konopasek's Indoor Tornado.