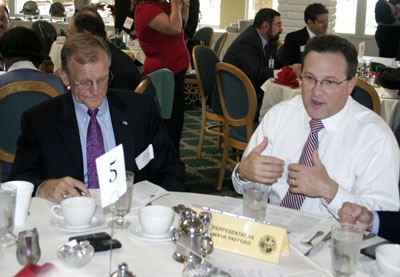 Local elected leaders from across Palm Beach County met Wednesday to discuss legislative priorities for the upcoming year.
The Palm Beach County Legislative Delegation met in a workshop session with representatives from the Palm Beach County League of Cities at the Atlantis Country Club to help draw up the league's goals for the 2013 legislative session in Tallahassee.
Legislators circulated to different tables during the workshop, listening to the concerns of local officials.
The delegation's chairman, State Rep. Mark Pafford (D- District 86), sat with local officials at one session, which included Royal Palm Beach Councilman Jeff Hmara. Among the items discussed included opposition to legislation that would restrict or prohibit revenues generated under the communications services tax and the local business tax.
"There's a quality of life issue, especially at a local level," Pafford said. "I don't know if the legislature understands that local government is where the rubber meets the road. You guys get the calls. It might not be fire-rescue, but the fact that the garbage man dumped the trash and left a mess in the front yard. That type of thing can be something that comes up, that we're not allowing these locals to raise money."
Pafford said he did not anticipate legislation eliminating or restricting local business taxes to come up or, if it did, that it would gain traction. If something were to pass, such as a prohibition of the communications tax, which in many cases garners more revenue for local government than property taxes, he said local governments would be forced to recoup the loss by other means.
Hmara said that if his village were to lose that source of revenue, Royal Palm Beach would be forced to raise money elsewhere or dramatically cut back on services. "It's just like your personal budget," he said. "You have to decide where else can you get that money, or is it not so important that I can give up some of those? That sort of discussion is a hard one to have with the residents."
Pafford said the legislature has cut its budget every year for the past five years, often passing costs on to local government, yet there has been no discussion of alternative revenue sources.
Hmara said another consideration is whether the tax discourages the development of local business. "Striking that balance is why you have elected officials who try to figure out the right balance for the community," he said.
Pafford said that whatever the legislature does, it is always felt at the local level. He pointed to the recent elimination of the Department of Community Affairs, which controlled large-scale development, and its replacement by the Department of Economic Opportunity, leaving local government with the responsibility of controlling development. "At the end of the day, legislators go to Tallahassee and legislate, and you at this table get to talk to people," Pafford said.
As the state grows — and Florida is now home to 19 million people, with more than 7 million in Miami-Dade, Broward and Palm Beach counties — local governments are going to need to talk about population density, Pafford said.
"We're not necessarily on one house per acre anymore," he said. "We may have to build 10-story, 20-story places in West Palm Beach if we want to preserve land, because people are going to come here, they're not going to go away, and it's not going to stop."
The group also discussed the league's support of legislation to encourage the development and implementation of renewable and alternative energy, and alternative transportation fuel sources. Pafford said that a wind farm recently approved for the Everglades Agricultural Area is a good example of what he would like to see more of. "The wind farms out west are seen environmentally as the way to go," Pafford said.
The delegation's vice chairman, State Rep. Pat Rooney (R-District 85), was the next representative to sit at the table, where discussion included homeowners' insurance.
Loxahatchee Groves Water Control District Supervisor John Ryan said he sees problems growing with Citizens Property Insurance, the state-run insurer of last resort, trying to unload some of its clients to smaller, private insurers.
"Citizens is getting downright abusive, almost, in trying to depopulate their number of policies," Ryan said, explaining that Citizens has tried to get him to go with smaller, under-capitalized insurers, some of which have already failed.
"I agree with that," Rooney said. "This latest plan that they came up with to try to loan money to some of these companies to get them to come in; I think that needs to be vetted in front of the whole legislature. They were trying to do that without really getting our involvement in it."
Ryan asked whether the state had tried attracting some of the more traditional insurers back to Florida, and Rooney said any new ideas are worth considering. "The current system we have is not sustainable, and it's not economically viable for any of us to be paying outrageous amounts because the only company that will take us is Citizens," he said. "The good news, I think, is the governor has heard those complaints, and I think he is trying to figure out ways to bring some of the big boys back in here."
Rooney said he thought the Citizens board needs new leadership. "I think the people who have been running that have not been doing a great job," he said.
Rooney added that one of his priorities as a member of the Rulemaking & Regulation Subcommittee has been to eliminate duplicative regulations that hamper the growth or establishment of new small businesses.
"The primary directive we had from the governor was to try to get rid of about 1,100 rules, regulations, permitting things that hamper small businesses," Rooney said. "When you apply for a business and you get your occupational license and your local permit and your state permit and all that other stuff, it's time-consuming and costly, and what we're trying to do is streamline that process."
Right now it can take up to six months to get all the necessary permits to start a business, Rooney said. "If you wanted to start your business now, you're starting it in the middle of summer, so you're out of the season," he said.
Last year the committee got through about 270 of the rules and regulations on their hit list, Rooney said. "This year, hopefully, we'll get through the rest of them," he said, explaining that most of the rules they're reviewing are obsolete.
Hmara asked whether the elimination of any of the rules would push additional responsibility to local government, and Rooney said he did not think so.
"I wouldn't view it as pushing it down to your level," Rooney said. "We're trying to take a holistic view, but at the same time, I try to be cognizant of what you're dealing with at the local level because you're the ones on the ground."
ABOVE: State Rep. Mark Pafford (right), seated next to Royal Palm Beach Councilman Jeff Hmara, discusses issues coming up in Tallahassee next year.