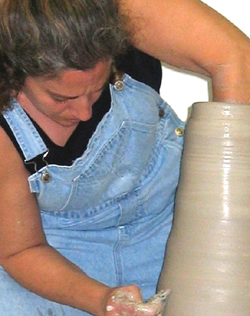 "Tune In, Turn On and Spin Out" on Friday, Dec. 21 from 6 to 10 p.m. with the artists of the Clay-Glass-Metal-Stone Gallery in downtown Lake Worth. The gallery is located at 605 Lake Ave.
Local artists are stepping out of the box to turn on attendees, as they tune in and the artists spin out. These artists will amaze with their skill as they entice you into the gallery to buy one-of-a-kind gifts made by the gallery's 30 cooperating artists.
Galleries everywhere may sell museum-quality art, but Lake Worth is where this art is made.
Lake Worth artist Tracy Rosof-Petersen spins clay into a frenzy as the wheel turns faster and faster. Known for her ability to create extreme-sized vessels, Rosof-Petersen can sling mud with the best of them.
Teri Salomoni spins straw into gold as her lathe rotates at warp speed. Wood chips fly as Salomoni fashions bowls, tops and ornaments out of locally found woods. A turn at the lathe is in the offing for the brave soul passing by.
The spinning continues with Wayne Smith as he lights his torch and uses the flame to spin glass into threads of animals, sailing ships and turtles. In fact, name the animal and Smith will create it for you on the spot.
Clay-Glass-Metal-Stone Gallery, a cooperative of 30 local artists, is suggesting you buy your holiday gifts this year from local artists and craftspeople.
Lake Worth is the town where artists create museum-quality works that are sold in expensive galleries throughout the region and the country. Shopping Lake Worth for one-of-a-kind gifts at affordable, direct-from-the-artist prices is a great way to satisfy your gift list and boost local economies.
Artists will be on hand to wrap your purchases in ways only an artist can. Glass fish, seashell trees, carved birds, woven baskets and your usual assortment of large mugs, bowls and sculptures of every position, adorn pedestals throughout the gallery. End-of-the-year nogs and bites will warm your cockles and tickle your taste buds.
All is in good fun as Lake Worth takes its rightful place as the gathering spot for some of the best art, dance, theater, music and food in the region. A wine tasting, courtesy of artist and wine broker Barbara Eden, takes place at every opening.
Clay-Glass-Metal-Stone Cooperative Gallery is sponsored by the Flamingo Clay Studio, a nonprofit arts organization whose mission is to provide affordable studio and gallery space for three-dimensional artists. The gallery is located at 605 Lake Ave. in downtown Lake Worth. Hours are Wednesday through Sunday, 1 to 9 p.m.
Gallery openings are held the first and third Friday of each month from 6 to 9 p.m. For information, call (561) 588-8344 or visit the gallery's blog at cgmsgallery.blogspot.com.
ABOVE: Artist Tracy Rosof-Petersen works a potter's wheel.