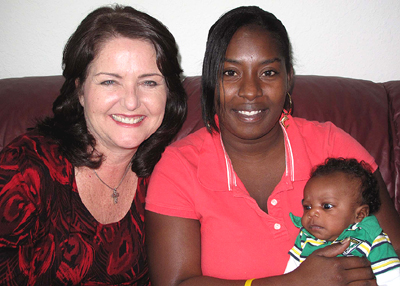 Staff members at the Lord's Place are privileged to witness "small miracles" often as they work with their clients to end their homelessness and find hope in renewed lives.
Kendra Green feels like her life has been full of miracles since last Christmas. Chief among them is her "miracle baby," as she calls her son, Damari, who was born early last month, when the odds were against him, or his mother, surviving childbirth.
Green, 31, grew up in Palm Beach County, graduated from Royal Palm Beach High School and entered Palm Beach Community College (now Palm Beach State College) to pursue a career in nursing. She earned her certified nursing assistant credentials and put off pursuing her certification as a registered nurse because she had a son to care for, Damarcus, now 6.
Life was pretty good until 2010, when Green suffered a brain aneurysm and was hospitalized for eight months. A stent was placed in her aorta to facilitate better blood flow as she had started to develop blood clots that were slowly moving from her legs to her heart — a life-threatening condition. As she slowly regained her health, she lost everything else because she had to take a leave of absence from her job, and with no health insurance, she had no way to pay her rent, medical bills or her car payment.
"After getting out of the hospital, I had to start over again as a single mom," Green said.
She has worked for a national retail store for the past three years but has never been able to get full-time status. The 25 hours of work a week at just above minimum wage wasn't enough to pay all of the bills.
Then, she learned she was pregnant with her second child — a life-threatening condition for someone with her history of a brain aneurysm.
"Once the doctors found out my history, they didn't want me to have this baby because of all the pressure pregnancy would place on my body," Green said. "They wanted me to have the stent removed to continue the pregnancy, but I didn't have money for the operation. I had to make a life or death decision; I could die, or the baby might die, or both of us could die. I put it in the Lord's hands… I just asked God to get us through."
But things started to get even worse. Four months into her high-risk pregnancy, Green and her son were about to be put out on the street. The landlord had started eviction proceedings, and they would be on the street in just two days.
Green turned to a cousin for help, and he suggested the Lord's Place. Green made the call and was able to be placed in an apartment at the Lord's Place Family Campus in West Palm Beach. With the Lord's Place providing a roof over their head and assistance with food, day care and after care for her son while Green continued to work, her outlook improved.
"They are very resourceful at the Lord's Place," Green said. "They helped us out with everything from getting to doctors appointments, providing my son with daycare and aftercare to helping him to go to summer camp so I could work. The Lord's Place has provided me with the security of having a safe place to call home, knowing that my kids and I have somewhere to lay our heads every night and to take a shower and be a family."
All during her pregnancy, Green had to endure shots to keep from going into early labor as she had with her first son. The baby was also positioned over the stent in her abdomen, causing nearly constant pain.
And then, at 38 weeks via Caesarian section to lessen the chances of another aneurysm, Damari was born Nov. 3.
Now Green and her young family are planning for a brighter future. She enjoys the camaraderie with the other families at the Lord's Place, but hopes to save enough money to soon rent her own apartment.
Her short-term goals are to find stable housing, reliable transportation and a job that will provide full-time work and benefits.
One of her long-term goals is to return to school to become a registered nurse. "What it all boils down to," Green said, "is we're all here for one reason: to help each other. Everyone here at the Lord's Place has gone out of their way to help me."
Christmas this year looks a lot different for Green. "Last Christmas I didn't know if I could provide for my oldest son, and I would soon have another one on the way," she said. "Christmas is so much better this year thanks to the Lord's Place. Not having to worry about an eviction notice is the best Christmas gift for me. That, and my miracle baby."
ABOVE: The Lord's Place CEO Diana Stanley with Kendra Green and her son Damari.