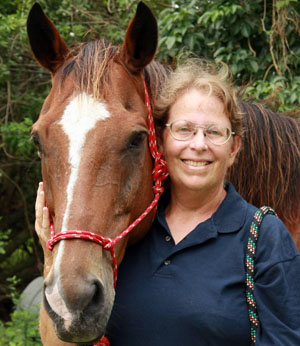 TAILS FROM THE TRAILS
Although it can be fun and rewarding, working in the horse industry isn't an easy way to make a living. Many young men and women who are passionate about horses choose equine-related business for their career path, and some do quite well, but for many, it's a long, hard haul.
Danielle Goldstein knows something about this. She grew up in New York City and showed in the tri-state area for many years before migrating down to Wellington, first as a teenager to show on the circuit for a few weeks, then gradually for longer and longer time periods. Finally, in 2000, her family built Starwyn Farm in Grand Prix Village, and now she's here seven months each year.
Next month, she's launching her International Equestrian Education program, the first of two identical five-week courses that run during the Winter Equestrian Festival.
"My partner, David Krum, and I have been working on getting this up and running for some time," Goldstein explained. "It's a course that will teach someone a lot of practical knowledge and really prepare them to work in the horse industry. Although there's no riding involved, it will cover a lot of other aspects and help someone become well-rounded. It's geared toward people who want to find employment in the performance end of the industry. The goal is to prepare people to be able to work in or run a show barn."
Goldstein envisions her clients as people who hope to work specifically in the hunter/jumper or dressage disciplines, either high school or college students, trainers or other young professionals. Her motivation for starting the course grew from her own experience.
"When I moved up to the professional level, after being a junior rider, I found there was a huge gap in my education," Goldstein said. "There were a lot of things others had done for me, and now I was supposed to know how to do all of it myself, and I didn't. It was an eye-opener. I don't want others to have to go through the same thing."
Goldstein will cover a wide range of topics, everything from knowing the ins and outs of properly grooming a show horse, to safely handling difficult horses and caring for their every need. Students will learn a lot of practical skills, such as how to bandage legs correctly, without bowing a tendon, and how to give shots, along with other basic horse healthcare.
Students will become familiar with using equine exercise machines such as a hot-walker and a treadmill. The course will also cover management skills; dealing with difficult owners and trainers; how to run a barn, including ordering feed and hay; organizing tasks and completing paperwork; dealing with legal issues — in other words, all the various aspects of the business.
But it's not just for people who want to make their living with horses. Goldstein explained that even backyard horse owners would find it useful and informative, whether they show or just ride for pleasure. She said the information will be helpful for anyone involved with horses at any level.
The first semester runs from Jan. 8 through Feb. 8, and the second semester runs from Feb. 19 through March 29. The classes are given twice each week, Tuesday and Friday from 5:30 to 7 p.m. The topics covered start with grooming and establishing a basic grooming routine; tacking up a horse and caring for tack; lunging; basic nutritional requirements; equine dentistry, hoof care, basic first aid and veterinary; course design and proper footing; schooling area safety and etiquette; breeding overview; different types of business entities and contracts; stable management; travel safety; and organizing and dealing with all sorts of paperwork.
The course is priced reasonably at $500, and successful participants will receive a Starwyn Certificate for Equine Education. The top five participants, based on test scores, will be offered a month-long internship with some of the top pros in the area to gain further hands-on experience. The last day of class will also offer a career fair to help students decide what they'd like to do and make some industry introductions.
"The classes will be held right here at the farm in Wellington," Goldstein said. "Students should wear comfortable clothes and bring along something so they can take notes. We can also tailor classes to include any specific areas they want to cover, if we don't already. Basically, I want this to be an enjoyable, informative experience. Nothing long and boring; more cut to the chase and learn the really useful stuff."
Goldstein is also offering 10 scholarships, five for each semester. The scholarships are open to any applicant 15 or older, through a 1,500-word essay describing their passion for horses and the importance of equine education. Deadlines for the entries are Jan. 1, and slightly later for the second semester.
"There's nothing else like this available in the area," Goldstein said. "The goal is for our students to feel comfortable and safe while working in any aspect of the horse business or in starting up their own establishment. This course will offer anyone a good solid base from which to break into the industry, enhance the knowledge they already have, and move up the ladder."
For more information, call (917) 544-3349, or e-mail Goldstein at dani.goldstein@gmail.com.