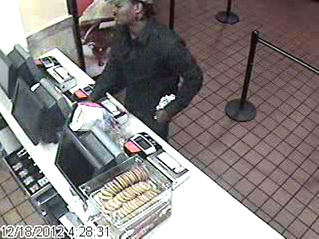 DEC. 18 — The Palm Beach County Sheriff's Office is seeking the identity of a suspect (shown above) wanted for Tuesday's armed robbery of a McDonald's restaurant in Wellington.
According to a PBSO report, at approximately 4:27 a.m., an armed robbery occurred at the McDonald's restaurant on Greenview Shores Blvd. The suspect is described as a black male approximately 6-foot to 6-foot-2, 170 lbs., with short dreads, armed with a black semi-automatic handgun with a brown grip. He was wearing a black long-sleeve shirt, black jeans and a camouflage colored baseball hat with the word "Ace" on the front. He was seen leaving in a black SUV-style vehicle.
Anyone who has information about this armed robbery or can identify this suspect is urged to contact Crime Stoppers at (800) 458-TIPS.