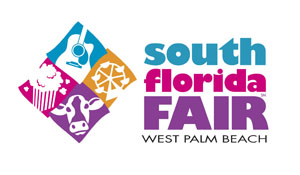 Discount admission and ride tickets to January's annual South Florida Fair are now on sale at Publix supermarkets, BB&T, Bud's Chicken & Seafood and TD Bank locations. Tickets also may be purchased online at www.southfloridafair.org.
The 2013 South Florida Fair is slated for Jan. 18 through Feb. 3.
"Fair tickets are the perfect holiday gift for the entire family, friends or associates," President and CEO Rick Vymlatil said. "There is an assortment of ticket packages available to fit every budget."
An advance purchase saves up to 30 percent off gate prices, which go into effect Jan. 18. The cost of an advance adult admission, 12 and older, is $10 and $15 at the gate. An advance child's admission is $5 and $8 at the gate (5 and younger are free), and an advance senior admission, 60 and older, is $7 and $9 at the gate. For details on this and other discounts, including the Mega Saver package, which represents a $41 savings in advance, may be found online at www.southfloridafair.com/tickets.
The South Florida Fair, Palm Beach County's largest and oldest event, is starting its second century with a number of new attractions including an impressive 70,000 square foot exposition theme of "Washington, D.C., Our Nation's Capital."
New entertainment offerings include a world-class, patriotic ice show, an intriguing Elephant Encounter, a Firefighter Show and the Landshark Band. Returning fair favorites include pig racing, a petting zoo, hypnotist Mark Yuzuik, Dennis Lee and the Sally Bennett Big Band orchestra. All are free with a fair admission ticket.
National recording acts that have been booked include Jackyl, 10th Avenue North, Dustin Lynch and the Country Gold Tour. More than 90 rides will be open on the magical Wade Shows midway.
Among the fair favorites are the thousands of farm animals and feathered friends gathered in the Agriplex and strolling through historic Yesteryear Village while perhaps munching on a famous corn dog or funnel cake.
For more information, call (561) 793-0333 or visit www.southfloridafair.org.