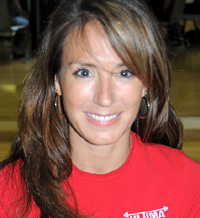 By Lynette Laufenberg
As we enter the month of December, many of us are faced with the fear of gaining weight. Fighting off those holiday pounds is easier than you think! All it takes is a little creativity and direction. And because the traditions of the holidays almost always involve family, what better way to get active than with your entire brood!
Focusing on daily activity and eating properly should not be limited to one's age. In fact, the earlier these concepts are introduced to kids, the better. Getting into exercise can never start early enough. So check out the "Twelve Days of Fitness" for this year, and if you start early enough in the month, you might even get to do it twice!
Day 1 — Hold a plank as long as you can. Modify on your knees if you need to. Time it. Record it. Do it again every day the rest of the calendar year. See improvement! Nothing is better than having a strong core to help maintain a healthy back.
Day 2 — No calorie-containing beverages. Kids and adults (you're not off the hook either) tend to drink a lot of their daily calories in the form of sugar. The hit list: soda, fruit juice, Kool-Aid, Gatorade, and even Vitamin Water (added sugar). (Don't forget to do your plank.)
Day 3 — Take a free BCx Boot Camp class in "the Pit" at Ultima Fitness. We offer 13 classes per week of tire-flipping, rope-slamming, sandbag-throwing and calorie-burning fun! (And I'm almost positive you will do a plank at least once during boot camp today.)
Day 4 — De-stress with a mind/body fitness class today. Ultima offers 11 yoga and Pilates classes each week to help reduce your stress, improve your flexibility, and build a better mind/body connection. Ahh…
Day 5 — Use your feet! When you head out today (grocery store, a friend's house, etc.), walk to your destination (when possible) instead of driving. Or make a point to walk to the park and spend time on the playground with the kids. Almost every neighborhood in the western communities has a local park within walking distance. Yes, parents: you, too, can swing on the monkey bars!
Day 6 — Children will follow their parents' lead. If you're making a conscious effort to eat more healthfully, the kids will follow. Choose fruit instead of a 100-calorie pack. (Did you remember to practice your plank today? Are you getting better?)
Day 7 — Learn a new exercise today. Not only will you challenge your muscles in a new way, but you'll build brain power, too! Check out what Ultima has to offer in our personal training department! Every new member receives a complimentary personal training session with a certified personal trainer.
Day 8 — After a hard day's work, there is nothing more relaxing than a massage with our licensed massage therapist. Some of the many benefits or therapeutic massage include reduction of muscle spasm, improvement of posture and relief of tension-related headaches.
Day 9 — While you are decorating your tree or house today, do 10 bodyweight squats in between every decoration you put up. Your kids and your dog will look at you with curious eyes, and then they will probably try to mimic you. Exercise is always more fun with other people!
Day 10 — No skipping breakfast today. Choose something with both protein and carbohydrates, such as a banana with peanut butter, yogurt and granola, cottage cheese and fresh berries, or eggs on whole wheat toast. Numerous studies have shown that those who eat breakfast consistently tend to have a lower BMI (body mass index) compared to those who don't.
Day 11 — Learn how to do Down Dog properly, a yoga posture that totally rocks. Now that's one your dog can even do, and probably better than you! In fact, every time you see your dog stretch, you should, too. (Not sure what Down Dog is? Look it up on the Internet and then practice it daily for a fantastic hamstring and calf stretch!)
Day 12 — Remember the true spirit of the season, giving unto others. Whether that be giving of your time, of yourself or giving gifts. And what better present to give than the gift of health and fitness? We have gift cards available at the club that can be used toward membership, personal training, specialty programs, massage and more. Or promise someone you love that you will commit to being their workout buddy for the entire month of January. We are always more accountable to someone else than we are to ourselves.
Remembering how important our health and wellness is during this holiday season will help put many other things into perspective. Without good health, it doesn't matter how much money you have, what size TV you have or where your next vacation will take you. Without our health, we will not be able to enjoy any of these things. At Ultima Fitness, we are always happy to help meet the needs you may have, whether it is to provide direction in establishing an exercise routine, nutrition guidelines or assist in training for your next competitive event. I wish you all a wonderful holiday season. Hope to see you at Ultima in 2013!
Lynette Laufenberg, an ACE-certified group fitness instructor and certified personal trainer, is program/fitness director at Ultima Fitness/Xtreme Tae Kwon Do. Ultima is located at 12799 W. Forest Hill Blvd. in Wellington. For more information, call (561) 795-2823 or visit www.ultimafitness.com.