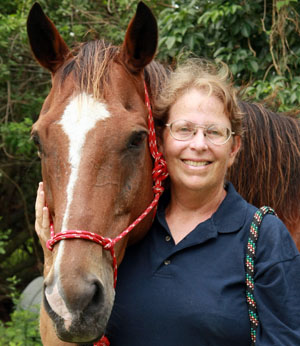 TAILS FROM THE TRAILS
Dorian Paxson loves spending time at her home and place of business. Happily, that's fairly easy, as they're one and the same. She and her husband, Todd, own and run TLP Stables at 14270 87th Court North in The Acreage.
"I'm originally from Centereach, New York," Dorian said. "We moved to South Florida in 1987 and bought TLP in 1997. Back then, it had only the one wooden barn. We added the second CBS barn and generally improved the property."
The property, all 8 acres, includes 18 stalls with fans and lights, grassy turnout paddocks, an air-conditioned tack room, two round pens, a hot walker, a wash rack with both hot and cold running water, jumps, barrels and a really, really large sandy arena.
They offer full and partial board and are conveniently located a short walk from the Nicole Hornstein Equestrian Park.
"The best thing about our place is how laid-back it is," Dorian said. "This is a real family barn with a relaxed atmosphere. Adults and kids feel welcome. And, since we live here, it's also safe for both people and horses. Someone's always around to check up on things."
Dorian has 10 boarders and keeps two horses of her own: her husband's old Quarter Horse gelding, and her daughter's pony. Sometimes the barn has more empty stalls, sometimes more occupied ones.
"We go from full to empty," Dorian laughed. "It doesn't bother me. I'm used to it. That's the way things are with horses. A lot depends on the economy and what people can afford. Sometimes things will get slow, then they get really, really busy again. I don't worry about it."
TLP also offers lessons. Linda Rainbolt is the barn trainer. She keeps two of her horses there and uses them for lessons, and she also instructs people who trailer in or ride over on their own mounts.
"Right now I'm mostly teaching English Pleasure and Western Pleasure," Linda said. "I started teaching there a few months ago. One of my students moved her horse from a barn in Jupiter to TLP, and so I was out there often, giving her lessons. Then I basically started teaching the whole barn."
Western Pleasure is a very controlled discipline, she said. "The rider has to learn to control the horse with their body," Linda explained. "The horse moves naturally off the rider's legs and shifting weight, not off the reins. Watching someone figure out how to collect a horse that way, from the body instead of from the hands on the reins, is definitely a thrill."
The difference between Western Pleasure and English Pleasure, besides the tack and attire, is in the horse's way of going. Although horses should be collected in both disciplines, Western tends to be nice and slow, while English moves out more and is more like a hunter-type flat class.
"I like teaching; I like the thrill of it when someone learns something they've been working on. I enjoy helping everyday people improve their riding and horsemanship," Linda said. "My biggest thrill is starting complete novices. I'm very good at bringing along someone who knows nothing about horses or riding, and getting them to where they want to be."
Linda gives private and group lessons, and loves getting kids involved with horses. "Kids learn fast and listen good," she said.
Linda likes spending time at TLP Stables.
"They keep grass in the paddocks and have a huge arena and a whole course of jumps. It's clean and comfortable, and the owners are really nice. I absolutely recommend it for anyone."
Kristine Morley is a snowbird who boards her horse at TLP Stables during the winter months.
"I bring J.R., my Arab, down every year," she said. "He's old, like me. We've been boarding here for nine or 10 years. I like that J.R. is happy here and well cared for. Dorian is very understanding and knowledgeable about horses. It's safe, and I like her flexibility. I can use my own farrier and vet, and I can visit and ride whenever I like. J.R. and I are both happy being at TLP."
For more information about TLP Stables, call (561) 791-8325.