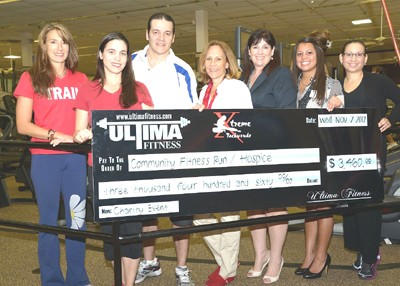 During the month of October and early November, Ultima Fitness/Xtreme Tae Kwon Do in Wellington played host to several fundraising events with the support of members and guests.
Some of the events were held in the Ultima facility, such as the Party in Pink Zumba fundraiser to benefit thinkPINKkids and the BCX Boot Camp Hospice fundraiser. Xtreme Tae Kwon Do raised more than $3,300 in one morning through its annual kick-athon, and members were also part of "Team Ultima" in the 15th annual Wellington Community Fitness Run/Walk, which also benefited Hospice of Palm Beach County.
Since opening in 1990, Ultima Fitness has been highly involved in the community and is committed to giving back. It sponsors and organizes activities throughout the year with the support of members, who share the same responsibility of helping others. By doing these events, Ultima achieves its goals in helping and giving back to the community.
"It's with the help of dedicated members like ours that we are able to give back so generously to the community," explained Lynette Laufenberg, program/fitness director.
Ultima staff believes that true gratitude involves action. "Lend a hand; pitch in; make a gift; give your time," Laufenberg said. "Give back as often as you can. Even a friendly greeting can make a big difference in the world!"
The team at Ultima Fitness would like to thank all those who supported them in all their fundraising events this season. They take pride in what they do, inside and outside of their facility, especially if it involves taking care of others and supporting them in whatever they are doing to better themselves and help others.
If you would like to be part of the Ultima team, or to learn more information about the facility, visit the gym's web site at www.ultimafitness.com.
ABOVE: Lynette Laufenberg, Judy Duany, Gustavo Pope-Guerriero, Jill Merrell, Mary Lou Bedford, Mariela Castillo and Tania Artiles.