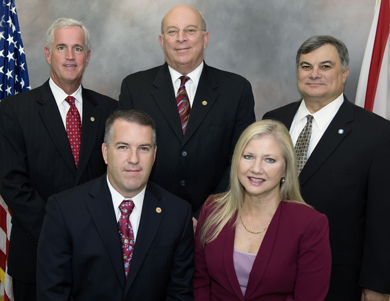 The Wellington Village Council voted Tuesday to continue to work with its current law firm while members decide whether to make the village attorney's position in-house.
In a 3-2 decision, council members chose to stick with the law firm of Glen J. Torcivia & Associates temporarily until they hire a new attorney on an interim or permanent basis. Councilmen Matt Willhite and John Greene cast the dissenting votes.
Last month, the council was split on a decision to end its contract with the law firm, which former Village Attorney Jeff Kurtz worked for. But council members had not selected new representation as of this week.
In the meantime, a consulting firm has been crunching numbers to make a recommendation whether Wellington would save money by moving its attorney in-house rather than having a firm on retainer.
"We have asked if they could move up their completion date," Village Manager Paul Schofield said. "They said they will try to accelerate the process, but given the approaching holidays, they are not willing to commit and say they can. They will, however, be providing recommendations as they become available rather than waiting until the end."
But because the contract with Torcivia was to end Thursday, Schofield said council members had to choose an interim attorney or be left without representation. "You can choose to continue with Mr. Torcivia replacing our principal attorney, or if not, several law firms have expressed interest in providing interim services," he said.
Willhite was concerned that Torcivia was not always available for village business.
"We were told by Mr. Torcivia that he would take over as lead counsel and he would be our attorney," he said. "My understanding was he would take over the same shoes as Jeff, but instead we're getting multiple attorneys."
Mayor Bob Margolis asked Schofield whether he was comfortable with preparations for the transfer period. Schofield said that all necessary paperwork is being gathered.
"The files are being assembled in a way so they can be transferred effectively and efficiently," he said. "Regardless of the time frame, there is no clean break."
Vice Mayor Howard Coates was concerned that council members would be making a rash decision if they chose another law firm that night.
"If waiting on the report causes the council to make an impromptu decision without vetting the legal counsel we will retain, then I have concerns about that," he said. "I don't want to be in a position where we make an important decision… when we know all council members have not had an opportunity to look at these proposals [of interested law firms]. I think it would be a mistake to have any less of a process when it comes to hiring someone so important to this village, be it interim or permanent counsel."
Coates made a motion to continue with Torcivia as interim counsel until the recommendation from the auditing firm is ready.
Willhite asked whether the issuance of a recommendation by the firm would automatically end the contract, and Schofield suggested that Coates amend his motion.
"You could execute a contract with Torcivia to provide interim counsel until the council selects an interim or permanent attorney," he said.
Coates agreed. "I'd even go one step further and suggest we put out a request for proposals to look for outside and in-house counsel so we are ready to roll when we get the recommendation," he said.
Schofield said the requests are already being drafted.
Margolis asked whether the item to hire new counsel could be put on the Jan. 8 agenda if the recommendation was ready by then.
Schofield said it was possible, but suggested that the council not tie a date to Coates' motion. "I suggest you don't give it a time frame, but rather end the contract [with Torcivia] when you find a new attorney," he said.
Coates agreed. "I want to make sure the next step is a well-informed decision on our part," he said. "And having this decided on the basis of something that is handed to us literally on the night of the meeting with very little time to review it is a problem for me."
His new motion passed 3-2.