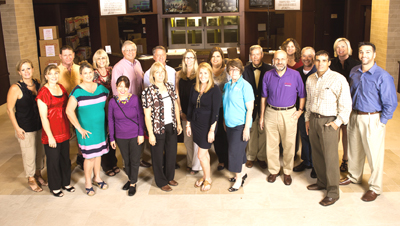 Organizers of the 2013 ArtiGras Fine Arts Festival have announced the steering committee for the 28th edition of the festival, which will be held Feb. 16-18 at Abacoa in Jupiter.
The following are the volunteers and the committee they will chair for the 2013 ArtiGras Fine Arts Festival: Barbara and Brian Cottrell, chairs emeritus; Connie Christman and Ashley Morse, ArtiKids; Alishia Parenteau, artist relations; Beth Kelso, community relations; Corrie Edwards and Stephanie Mitrione, concessions; Jennifer O'Brien, eco art; Debbie Johnson, Entertainment, Skip Miller and Ken Montgomery, hospitality; Barbara Patti, information; Elle Morrison, merchandise; Troy Holloway, parking; Rebecca Seelig, public relations; Cecilia del Agula, risk management; Dan Ganzel, security; Rudy Chacon and Manny Chacon, site operations; Karen Farruggia, volunteers; and Karen Nobel, youth art competition.
The steering committee guides more than 1,000 volunteers who will make the 2013 ArtiGras Fine Arts Festival the best experience for the more than 100,000 patrons expected to attend the festival.
Festival hours for ArtiGras are 10 a.m. to 6 p.m. Saturday, Feb. 16; 10 a.m. to 6 p.m. Sunday, Feb. 17; and 10 a.m. to 5 p.m. Monday, Feb. 18. The outdoor arts event showcases a juried exhibition of outstanding fine art along with a variety of activities that include live entertainment, artist demonstrations, interactive art activities for all ages, a youth art competition and the opportunity to meet more than 300 top artists.
General admission tickets to ArtiGras are available online at www.artigras.org for the advance ticket price of $6. Advance tickets will also be available starting Jan. 9 at the Gardens Mall information desk, Maltz Jupiter Theatre and Roger Dean Stadium. General admission at the gate costs $10, and children 12 and under are admitted free of charge.
For patrons who want to take their art experience to the next level, ArtiGras Patron Society memberships are available for as low as $100 for a single, $150 for a double and $300 for a family. In addition to being recognized in the ArtiGras official program, ArtiGras Patron Society members also enjoy VIP festival access and parking the entire weekend, VIP keepsake credentials, access to the VIP tent where they can partake in gourmet lunches and complimentary beverages, a complimentary commemorative poster, invitations to special ArtiGras events including the ArtiGras kickoff party Red, White & Zin and the exclusive "meet the artists" event at Lilly Pulitzer in the Gardens Mall.
For additional information, visit www.artigras.org or call the Northern Palm Beach County Chamber of Commerce at (561) 748-3946.
ABOVE: The 2013 ArtiGras Steering Committee — (Front row, L-R) Elle Morrison, Alishia Parenteau, Rebecca Seelig, Karen Nobel, Connie Christman, Erin Devlin, Jane Pike, Skip Miller and Rudy Chacon; (back row) Dan Ganzel, Barbara Cottrell, Brian Cottrell, Scott MacLachlan, Ashley Morse, Cecilia del Agula, Ken Montgomery, Amy Works, Stewart Auville, Hannah Sosa and Noel Martinez.