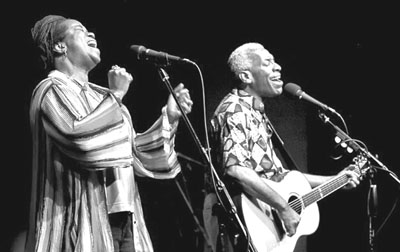 Clay-Glass-Metal-Stone Gallery in downtown Lake Worth will host a musical performance by Kim and Reggie Harris on Thursday, Jan. 17 at 7 p.m. as part of a Martin Luther King Jr. birthday event.
Kim and Reggie Harris have spent decades entertaining audiences from coast to coast. Defenders, through song, of civil rights, civil liberties and the environment, they have done extensive work for the Smithsonian and school districts nationwide.
Kim and Reggie have performed widely and to great acclaim for more than three decades. Creative curiosity, years of road and stage experience and interactions with performers such as Pete Seeger, Ysaye Barnwell, Jay Leno, Tom Paxton, Bernice Johnson Reagon, Harry Belafonte and others have led them to produce music that entertains and inspires.
Kim and Reggie are members of the People's Music Network, a group of performers nurtured and promoted by Seeger for their songs of freedom and struggle.
The gallery is located at 605 Lake Ave. in downtown Lake Worth. Hours are Wednesday through Sunday, 1 to 9 p.m.
For additional information, or to purchase tickets, call (561) 588-8344 or visit the gallery's blog at www.cgmsgallery.blogspot.com.
ABOVE: Kim and Reggie Harris bring their message to CGMS Gallery on Jan. 17.