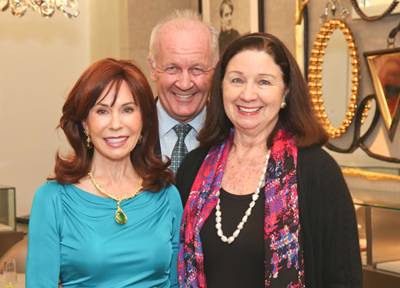 Judy Grubman of Judith Murat Fine Jewelry, vice chair of the Dare to Dazzle gala for the Cleveland Clinic Florida and renowned artist and designer, welcomed more than 50 guests honoring Sydell L. Miller and the Cleveland Clinic Florida on Thursday, Jan. 17 at A.R.T. on Worth Avenue in Palm Beach.
The evening included several new designs from Grubman's spring collection, showing interchangeable pieces that are creatively engineered from pendants to necklaces and earrings to necklaces — which reflect the sparkle that guests will experience at the Cleveland Clinic's upcoming black-tie affair, Dare to Dazzle. Ten percent of the proceeds from the weekend-long trunk show will benefit the Cleveland Clinic Florida.
Grubman's reputation as a uniquely talented and original designer has put the artist in the spotlight by creating distinctive one-of-a-kind pieces that communicate personality and style throughout the country in eponymous boutiques and department stores, including Bergdorf Goodman, Fortunoff, Greenleaf & Crosby, Hamilton Jewelers, London Jewelers, Rose Jewelers, Saks Fifth Avenue, Scully & Scully and Torneau, and with celebrity darlings such as Anne Hathaway, Tyra Banks, Lisa Guerrero, Eva Longoria, Jennifer Lopez and Jennifer Hudson.
Sydell L. Miller is chairwoman of Cleveland Clinic Florida's fifth annual ball, which will return to the Mar-a-Lago Club on Saturday, Feb. 9. Themed Dare to Dazzle, the affair has plenty of surprises in store and promises to be a sparkling evening of elegance and entertainment to benefit the world-renowned, not-for-profit medical center with Florida locations in West Palm Beach and Weston. Bruce D. Bent is the honorary chairman, and a special tribute will be made to Patrick Park, who is the recipient of the 2013 Sydell L. Miller Award.
All proceeds from the 2013 event will remain in Florida to enhance the programs and services offered at the West Palm Beach and Weston locations and support Cleveland Clinic's plans to expand into Palm Beach Gardens and Parkland.
For more information on Dare to Dazzle, call (561) 804-0264 or visit www.clevelandclinicflorida.org/palmbeachball.
For more information about Judith Murat Fine Jewelry, visit www.judithmurat.com.
ABOVE: Judy Grubman, Andrew Bytnar and Ruby Rinker. Photo by Lucien Capehart Photography