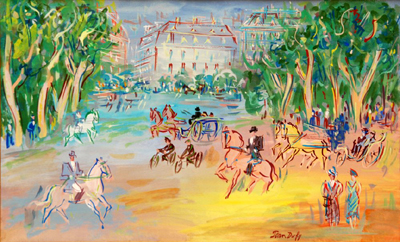 Elite Decorative Arts will host a fine artwork and decorative arts auction Saturday, Jan. 12 at the firm's gallery located in the Quantum Town Center (1034 Gateway Blvd., Suites 106 and 108, Boynton Beach). It will include original works of art by noted artists such as Jean Dufy, Antoine Blanchard and Avinash Chandra.
Offered will be a magnificent array of quality antiques, including fine artwork, porcelain, estate jewelry, silver, bronze, art glass, ivory and more. Previews will be held Friday, Jan. 11 from 11 a.m. to 5 p.m. and Saturday, Jan. 12, the date of sale, from 11 a.m. until the first gavel comes down at 1 p.m. Internet bidding will be facilitated by LiveAuctioneers.com and Artfact.com.
The painting by Jean Dufy is an original gouache depicting a park scene with horses. Titled Paris Cavaliers Vers le Bois, it is artist signed lower right and mounted in a gilded wood frame. Measuring 10.5 inches by 17 inches, the work is expected to bring $15,000 to $25,000. Dufy was an internationally renowned painter with frequent expositions in Paris.
An oil on canvas street scene by another well-known French artist, Antoine Blanchard, has a pre-sale estimate of $6,000 to $8,000. The painting, showing people, carriages, trolleys, buildings and trees, is signed lower right, mounted in a gilded wood frame and measures 20 inches by 24 inches.
The painting by Indian artist Avinash Chandra is an oil on canvas depiction of seven standing female figures. The untitled work, dated 1983, is signed lower right by the artist and measures 30 inches by 40 inches. It is expected to fetch $30,000 to $40,000.
A stunning pair of Russian enameled silver lidded urns, each having a winged angel design with scrolled flowers, carries a pre-sale estimate of $10,000 to $12,000. Another Russian decorative object — a silver enameled card box with hinged cover and multicolored scrolled floral design throughout — should reach $6,000 to $8,000. The front depicts the King of Spades, while the verso shows the Queen of Hearts.
There is also a pair of Franz Dorfl porcelain vases with each one expected to hit $2,000 to $3,000. Each vase is signed E. Heider to the side and features stunning scenes with beading and elegant scrolled gilded designs over cobalt ground.
A gorgeous Tiffany Studios Spanish bronze desk clock, made circa 1910 and showing a gold tone face with black enamel numerals and notches, carries a surprisingly modest pre-sale estimate of $1,000 to $1,500.
Returning to artwork, an oil-on-canvas rendering of a nude female by American painter Patrick Nagel, untitled and signed lower right, is expected to realize $3,000 to $5,000. The work is substantial, measuring 36 inches tall by 30 inches wide.
A bronze sculpture of an old woman with a walking stick by the noted Mexican artist Ramiz Barquet has a pre-sale estimate of $1,000 to $1,500. The work was signed to the back of the leg by the artist and is mounted on a 1-inch wooden base. The sculpture stands 26 inches in height.
All purchases will be subject to a 15 percent buyer's premium (for in-house and phone bids) or 18 percent if bidding online. Phone and absentee bids will be accepted. Elite Decorative Arts is now accepting consignments for its Feb. 16 fine decorative arts sale. To consign and item or collection, call (800) 991-3340 (toll-free) or e-mail info@eliteauction.com.
The next sale after that will be a Chinese works of art auction, planned for March 16-17 to coincide with Asia Week, a big annual event in New York City. Elite Decorative Arts will also be exhibiting at the Original Miami Beach Antiques Show, a huge annual event that will be held from Jan. 31 through Feb. 4 in Miami Beach. Elite Decorative Arts will exhibit in Booth #2105.
To learn more about Elite Decorative Arts and the firm's calendar of upcoming auctions and events, visit to www.eliteauction.com.
ABOVE: An original gouache work of a park scene with horses and carriages by Jean Dufy.