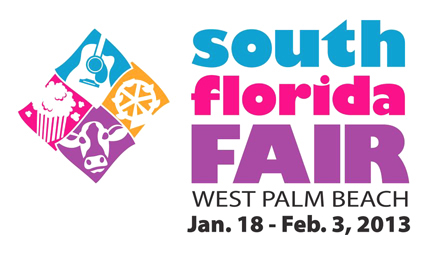 The 2013 South Florida Fair opens Friday, Jan. 18 and continues through Sunday, Feb. 3.
The South Florida Fair is known for attracting quality country and rock stars to its entertainment lineup, and this year a popular game show and one of the most successful authors have been added to the bill.
On Saturday, Jan. 26 at noon, 100 fans of author James Patterson can attend a special VIP reception in the Burkhardt Hospitality Building. Tickets cost $25, and 100 percent of the proceeds will benefit Florida Atlantic University. At 12:30 p.m., Patterson will make a presentation that is free with fair admission in Expo East Stage; he will sign books from 1 to 2 p.m.
In January 2010, The New York Times Magazine featured Patterson on its cover and hailed him as having "transformed book publishing." Time magazine named him "The Man Who Can't Miss," and he is a two-time Children's Choice Book Award "Author of the Year" nominee, a designation decided on by more than 15,000 children and teen readers. In the past three years, Patterson has sold more books than any other author (according to Bookscan), and in total, his books have sold an estimated 260 million copies worldwide. His credits include being the creator of the top-selling new detective series featuring Alex Cross and including the Hollywood-adapted Along Came a Spider and Kiss the Girls, starring Academy Award–winning actor Morgan Freeman.
On Wednesday, Jan. 30 at 7 p.m., America's favorite and longest-running TV game show The Price is Right, with Emmy-winning TV host Todd Newton, will invite fans to "Come on down!" as part of a live, interactive show. The Price is Right Live offers audience participation with the same enthusiasm, games, cash and prizes. General seating is free with fair admission. To get the best seats in the house, a limited number of reserved seats are available for $10, in addition to the fair admission ticket.
Concerts on the Pepsi Stage in the Party Pavilion will feature country singer-songwriter Dustin Lynch, described as one of country's artists to watch, with Brooke Eden & the Devil's Cut Band on Tuesday, Jan. 22 at 7:30 p.m. Jackyl will perform Thursday, Jan. 24 at 8 p.m. Formed in 1991, Jackyl's music is equal parts hard rock, heavy metal and Southern rock.
The fourth annual Classic Rock Tribute Band Competition will take place Saturday, Jan. 26, featuring AC/DC tribute band Shot Down in Flames: Bon Scott Era at 2 p.m., Led Zeppelin tribute band Ramble On "the pure Zeppelin Experience" at 3 p.m., Kiss tribute band SirKiss at 4 p.m., Journey tribute band Odyssey Road at 5 p.m., Lynyrd Skynyrd tribute band Saturday Night Special at 6 p.m. and a Yes tribute band at 7 p.m.
On Monday, Jan. 28, the Leroy Van Dyke Country Gold Tour will take the stage at 3 p.m. Van Dyke recorded the classic song "Walk On By" in 1961. Based on sales, radio airplay and the amount of time on the country charts, this song was designated the No. 1 recording for the period of Oct. 20, 1958 through June 25, 1994. He will be joined by Steve and Rudy Gatlin of the Gatlin Brothers, Helen Cornelius and Jim Ed Brown.
Tenth Avenue North will perform on Tuesday, Jan. 29 at 8 p.m. This American contemporary Christian band formed while attending Palm Beach Atlantic University in West Palm Beach.
On Jan. 31, country hit maker Don Williams will take the stage at 8 p.m. On Feb. 2, Grammy Award nominee (Best Tropical Album) Marlow Rosado y La Riquena will perform at 8 p.m. The reggaeton duo Angel y Khriz will close out the fair with a 9:45 p.m. performance.
Reserved seats also are available for $10 for these concerts, in addition to the fair admission ticket. Otherwise, general seating is free with a fair admission ticket.
The 2013 South Florida Fair runs Jan. 18 through Feb. 3 at the fairgrounds, located at 9067 Southern Blvd. Advance discount tickets are on sale through Jan. 17. Adult admission (12 and older) costs $10 in advance and $15 gate. Admission for children under 12 costs $5 in advance and $8 gate. Admission for seniors 60 and older costs $7 in advance and $9 gate. Children 5 and younger are admitted free. Bring two cans of food or dry goods to be entered into a drawing to win a variety of prizes.
For more information, call (561) 793-0333 or visit www.southfloridafair.com.