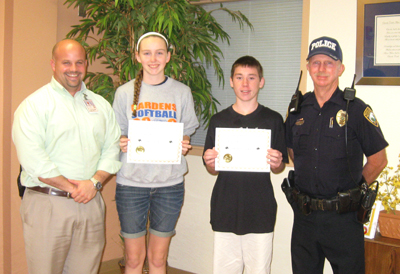 Osceola Creek Middle School has announced the recipients of its Scholar-Athlete Award for December. The award is sponsored by the school police and honors varsity athletes who also excel in academics, effort, behavior and school spirit, and serve as role models for others. This month's honorees carry high grade point averages as well as play varsity sports.
Girls volleyball honored 13-year-old Alysa Tabel. "This is Alyssa's third year of playing volleyball at the middle school level," Coach Shayne Sanderford said. "She has been a starting player ever since sixth grade and has improved tremendously over the past three years, and I expect her to continue to improve while in high school. She was a great asset to our offense this year, and was an enthusiastic, coachable, talented and contributing member of the OCMS volleyball team."
Tabel has a 4.88 grade point average, while also being a member of Osceola Creek's softball and basketball teams. She was selected as the Female Athlete of the Year as a sixth-grader. Tabel hopes to play basketball at the University of Connecticut and move on to play in the WNBA. She also wants to follow her father's footsteps into law enforcement.
Boys soccer honored seventh-grader Jonathan Fioramonti. "Jonathan Fioramonti is an outstanding athlete," boys soccer coach Tony Bugeja said. "He has been a starter on the Creek squad since the sixth grade. He is outstanding in the classroom and is a leader in the community. I am proud of his ministry work that he has done through his faith to impact others around him. I am honored to announce him for this award."
Fioramonti, 13, carries a 4.93 GPA, and also plays on Osceola Creek's boys volleyball team. He is undecided on a college but is leaning toward either a medical or engineering career.
Supporting the program are Subway, Domino's Pizza and Burger King (located at Seminole Pratt Whitney Road and Orange Blvd.) and Dairy Queen (at Royal Palm Beach and Okeechobee boulevards), which donated free food coupons.
Above: Osceola Creek Principal Dan Frank, Alysa Tabel, Jonathan Fioramonti and School Officer Sandy Molenda.