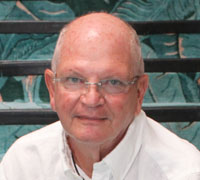 Joe Nasuti is the Phantom
Hear songs from Jaws, Superman, Star Wars, Schindler's List and more.
Bob Lappin and the Palm Beach Pops will celebrate the world's most Oscar-nominated film composer, John Williams, who created many of the 20th century's most recognizable popular music. Join the orchestra Feb. 4-8 for a celebration of this great contemporary film composer and hear the familiar themes from blockbuster movies such as Star Wars, Indiana Jones, Superman, ET, Jurassic Park and more.
The Palm Beach Pops will explore the prolific film composer's most epic scores and magical themes, from the unparalleled fanfare of Star Wars to the quietly gorgeous moments of Jurassic Park. The program encompasses both instantly recognizable melodies and moments of lush orchestral power.
Concerts for the Palm Beach Pops begin Monday and Wednesday, Feb. 4 and 6 at the Carole and Barry Kaye Performing Arts Center at Florida Atlantic University in Boca Raton; Tuesday, Feb. 5 at the Eissey Campus Theatre at Palm Beach State College in Palm Beach Gardens; and Thursday and Friday, Feb. 7 and 8 at the Kravis Center for the Performing Arts in West Palm Beach. Tickets start at $29 and are available by calling (561) 832-7677 or visiting www.palmbeachpops.org.
The Kravis Center is located at 701 Okeechobee Blvd. in West Palm Beach. Visit www.kravis.org for more information.
The PBSC Eissey Campus Theatre is located at 3160 PGA Blvd Palm Beach Gardens. To contact the ticket office, call (561) 207-5900.
The FAU Kaye Performing Arts Auditorium is located at 777 Glades Road in Boca Raton. To purchase tickets, call (800) 564-9539 or visit www.fauevents.com/online.
Coming up next, Clint Holmes will debut his brand-new concert, "The Music of James Taylor, Billy Joel, Elton John, Paul Simon and More" Feb. 25 and 26 at the Kravis Center, Feb. 27 and 28 at FAU's Kaye Performing Arts Auditorium and March 3 at the PBSC Eissey Campus Theatre.