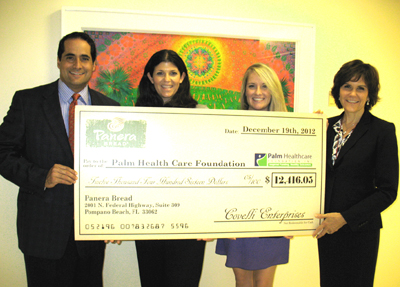 Panera Bread's Operation Dough-Nation recently presented a check for more than $12,000 to the Palm Healthcare Foundation. All 13 Panera Bread locations in Palm Beach County collected donations through in-café canisters from May through August last year. The money is earmarked for nursing education and advancement in Palm Beach County.
Panera Bread has been a steadfast partner of the Palm Healthcare Foundation in its nursing initiatives. Panera has supported the Nursing Distinction Awards in the past and created "Panera parties" for each of the award winners. Panera Bread has also hosted Nurses Night Out at CityPlace.
"Thanks to the generous donation from Panera Bread's Operation Dough-Nation and the continued support of Panera Bread, our nursing initiatives can thrive in our community," said John Lacy, chair of the Palm Healthcare Foundation Board of Trustees.
Andrea Bradley, the foundation's new CEO, was thankful for the support. "As someone who loves Panera Bread's healthy food choices, I am so pleased to see Panera support our work," she said.
Nicky Tesser, director of marketing and public relations for Covelli Enterprises, franchisee of Panera Bread, explained the company's philosophy. "At Panera Bread, we believe in giving back to local communities," Tesser said. "We are excited to support the Palm Healthcare Foundation and the important work they do in Palm Beach County, including being at the forefront of nursing education and advancement."
Chartered in 2001, the Palm Healthcare Foundation Inc. is Palm Beach County's leading public healthcare foundation. Believing that, "Together we can do more," the foundation's mission is to inspire and fund solutions to improve health in Palm Beach County. Since 2001, the foundation has distributed $49 million to more than 95 nonprofit organizations in Palm Beach County.
The Palm Healthcare Foundation is the leading public healthcare foundation in Palm Beach County. The foundation brings the community together to identify common goals and implement transformative healthcare solutions. It invests in the people and organizations that make the healthcare system stronger.
The Palm Healthcare Foundation developed its insight through trusted relationships with every hospital and healthcare agency in Palm Beach County to understand the community's greatest needs. For more information, visit www.palmhealthcare.org.
In the western communities, Panera Bread is located at 10540 W. Forest Hill Blvd. in Wellington (561-333-1330) and 11131 Southern Blvd. in Royal Palm Beach (561-204-3012).
ABOVE: Palm Healthcare Foundation Chair John Lacy, Nicky Tesser and Kelly Lawrence of Covelli Enterprises, and Palm Healthcare Foundation CEO Andrea Bradley.