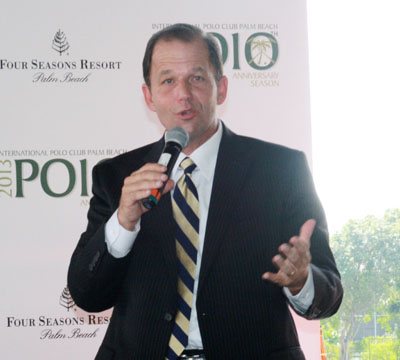 As the International Polo Club Palm Beach kicks off its 10th anniversary season, players and officials alike are looking for ways to draw in the community and foster growth in the sport, both here and all across the United States.
The season began last Sunday afternoon with an exciting overtime match which saw Coca-Cola defeat Villa del Lago 13-12 to win the Herbie Pennell Cup.
At a press conference Friday, Jan. 4 with polo officials and players, talk turned to how to promote the sport more widely in the United States.
IPC Polo Manager Jimmy Newman noted that nine of the 10 highest-ranked polo players in the world are from Argentina, and the tenth is from Uruguay.
"America is waking up," he said. "We're not quite there yet, but we have some youth polo programs now."
Tony Coppola, owner of the Tackeria and longtime polo announcer, noted that in Argentina, polo is much more common, especially when it comes to youth tournaments.
"This year, in Argentina, there were several youth tournaments for kids under 14," he said. "There were about 72 teams of children. Polo is just more of a way of life. The kids grow up riding horses and playing polo."
But Wellington is quickly growing interest in the sport, hosting youth tournaments of its own.
"We have quite a program going on here," Coppola said. "We just finished a tournament of under 14 and had about 10 or 12 teams. We also introduced another level of competition for ages 15 to 19 and had four teams in it."
But with buzz about polo possibly becoming an Olympic sport, as well as returning to the Pan American Games, officials are hopeful that the sport will reach a wider audience.
"There is more talk about international team competition for polo," Coppola said. "And there is a lot more youth competition. We sent a team to China this past fall."
Polo player Carlos Gracida noted that for many top-level players, the game of polo was passed down through families and friends. He pointed out that many of the current top players have been playing together since they were young.
"I learned to play from my father," he said. "I am teaching my son. Everybody loves polo. We have the best polo clubs in the world and the best horses; we need to find a way to get more players involved."
Gracida said he would like to see more trainers who can teach children the game at a young age.
"Get the right person and give him the economic support and power to really get a program of young kids together, and I think you'll see that people are interested," he said.
IPC President of Club Operations John Wash said that the club is doing its part to promote the sport in Wellington. He said he hopes to see the community come out and enjoy the sport, or learn more about it.
"We've got 16 weeks for you to come out and experience it," Wash said. "One thing I know about the polo players and patrons is that they… really want to make the sport mainstream for those who don't know much about it. They want to see it grow. We're really excited about going into our 10th season, and we hope the community will come out and enjoy it with us."
Ticket prices for Sunday matches range from $10 general admission to $120 box seating. Sunday brunch at the Pavilion and reception packages range from $55 to $330 for the Veuve Clicquot brunch package for two.
The International Polo Club Palm Beach is located at 3667 120th Ave. South in Wellington. For more information, call (561) 204-5687 or visit www.internationalpoloclub.com.
ABOVE: IPC's John Wash encourages everyone to come out for the 10th anniversary season.