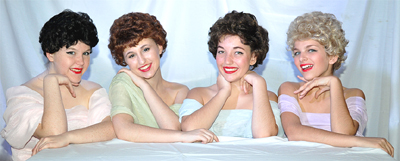 Bob Carter's Actor's Workshop & Repertory Co. (Actors Rep) will present The Taffetas Jan. 18-20 at the Bhetty Waldron Theatre (1009 N. Dixie Highway, West Palm Beach).
It's the 1950s, and Kaye, Peggy, Cheryl and Donna, four singing sisters from Muncie, Ind., are making their national television singing debut. Spotlight on Music, a fictitious weekly 1950s television show on the real-life Dumont Television Network, sets the framework for an evening of some of the greatest hits of the '50s. A tribute to the girl groups of that era, The Taffetas musical honors the sounds of the McGuire Sisters, the Fontaine Sisters and the Chordettes. The play was conceived by Rick Lewis.
Opening Off-Broadway almost two years before Forever Plaid, The Taffetas made nostalgia what it is today. Spending an hour and a half with The Taffetas and their three-piece band brings back the joy of Sunday-night television on a 12-inch black-and-white screen but in live, full color.
The cast includes Kaytie Scott of Delray Beach as Kaye, Drew Lederman of West Palm Beach as Cheryl, Brittney Anderson of Wellington as Peggy and Maddy Mackarey of Boynton Beach as Donna. The show is directed by Artistic Director Bob Carter, with musical direction by Randy Booth.
The Associated Press wrote that The Taffetas is "an evening for smiling in the theater."
The New York Times wrote, "'A smile is a crooked line that makes everything straight,' the motto of the fictional '50s pop group, sums up the whimsical charm of a show that resurrects vintage pop with a delightful tongue-in-cheek nostalgia."
Newsday called it "musical happy-talk, '50s-style," and commented, "boy do we need that message now!"
ABC TV said the girl group is "delightful," and Liz Smith of the Daily News wrote, "They're fabulous."
The Washington Times called it "an undeniably entertaining evening."
Variety wrote, "Capturing the innocence of the era, The Taffetas is ideal — should do hefty biz!" USA Today exclaimed, "Cabaret is making a big sound, and The Taffetas are it."
The show previews Thursday, Jan. 17 at 8 p.m., and opening night is Friday, Jan. 18 at 8 p.m. The Taffetas will continue Saturday, Jan. 19 at 8 p.m. and conclude Sunday, Jan. 20 at 2 p.m.
Tickets cost $30 for adults and $15 for students with I.D., and may be purchased at www.boxofficetickets.com, by calling (800) 494-8497 or at the theater box office one hour prior to show time.
Actor's Rep., a nonprofit organization, is now in its 33rd year. Since 1980, the company has been known for its strong training programs for actors of all ages, and its productions of daring, avant garde and seldom-seen classic plays.
New classes are underway for children, teens and adults in beginning and advanced acting and improvisation. Arts middle and high school audition preparation workshops are also available.
For more information about Actor's Rep, call Carter at (561) 833-7529 or visit the theater's web site at www.actorsrep.org.
ABOVE: The Taffetas: Kaytie Scott as Kaye, Drew Lederman as Cheryl, Brittney Anderson as Peggy and Maddy Mackarey as Donna.