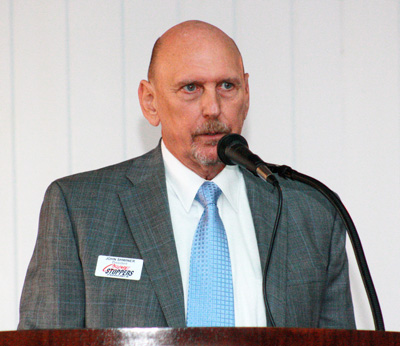 The Wellington Chamber of Commerce on Wednesday learned about Crime Stoppers, the civilian volunteer nonprofit dedicated to providing anonymous tips to law-enforcement officers across the nation.
Crime Stoppers of Palm Beach County President John Shwiner was on hand to share the history, mission and success of the organization.
Crime Stoppers began in Albuquerque, N.M., in 1976 as a way for civilians to aid law enforcement in solving crimes, Shwiner said. "Today, there are over 1,200 Crime Stoppers organizations throughout the world," he said.
The Palm Beach County branch was founded in 1981. Shwiner said the organization is a way to encourage citizens to help police officers when they otherwise wouldn't.
"There are two reasons why people don't call the police," he said. "Number one is the fear. If you call the police and they get your name and address, the next thing you know, you're sitting in court being asked what you were doing there that night. The other issue is apathy. That's where the reward comes in."
Crime Stoppers offers an opportunity for those who may have witnessed a crime to contact law-enforcement officials anonymously on the phone or electronically and give information without having to share their name or address.
"Crime Stoppers is a triangle of involvement," Shwiner said. "It requires law enforcement, it requires community and the media to be successful."
The organization partners with media outlets to publish the names and identifying information of criminals who are on the lam.
Shwiner noted that it was his organization that created what may be the first-ever reenactment of a crime.
He noted that America's Most Wanted host John Walsh was inspired by the organization. "He spent about a week with us," Shwiner said. "That was his catalyst for going on the air to do Most Wanted."
In 1994, the organization expanded to offer programs aimed at students to help cut down on drug use and weapons in schools.
"It was an opportunity for the students to call and remain anonymous," he said. "Kids don't want to be a rat or to be subject to any kind of retaliation. It was quite a massive campaign."
Shwiner said that students bought into the program and helped to make it a success. Students are also offered a $500 reward for recovery of a firearm.
"Obviously, we can't keep every gun out of every school," he said. "But we can try."
Over the years, Shwiner said the organization has adapted to keep up with technology, even offering a free mobile app.
"Over 50 percent of our tips are coming in electronically through our web page," Shwiner said. "We have to make sure we maintain anonymity for our tipsters."
The organization is financed heavily by donations. Although they receive a grant charged in the form of court fees in the Palm Beach County court system, the $20 fee is subject to processing fees by several local and state organizations, leaving little for the organization.
Shwiner said any donation would help.
"If you donate anything to Crime Stoppers of Palm Beach County, it stays in Palm Beach County," he said. "It goes to our community, our schools and our children."
And the return on the investment is well worth it.
Shwiner said that since 1981, there have been 104 homicides solved, 4,700 arrests made, 7,000 cases solved, $7.81 million in property recovered and $18.6 million in narcotics recovered thanks to anonymous tipsters.
"In that time we've awarded a total $475,000 in rewards," he said.
The school program has been equally successful, Shwiner said.
Since 1994, there have been 620 arrests and 613 cases solved, as well as $150,000 in property and $40,000 worth of narcotics recovered.
"But the next statistic is most important," Shwiner said. "There have been 250 weapons taken out of Palm Beach County schools, including 48 loaded handguns."
The total reward money paid out? $47,000. "Most students never collect their rewards," he said.
For more information about Crime Stoppers, visit www.crimestopperspbc.com.
ABOVE: Crime Stoppers of Palm Beach County President John Shwiner speaks at Wednesday's chamber luncheon.