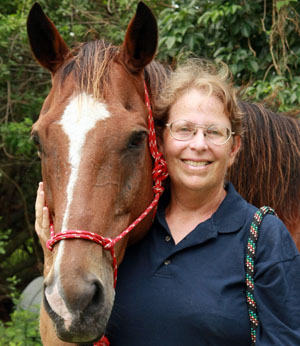 TAILS FROM THE TRAILS
Back on Nov. 7, a group of 13 horses was seized by Palm Beach County Animal Care & Control. They ranged in age from a few months to 20-something years. All of them were emaciated and in generally poor health.
Flash forward three months. "We're very pleased that nine of the horses have been placed in homes or with other rescues," Capt. David Walesky said. "We're cautiously optimistic about finding homes for these last four."
The last four are very nice horses, and certainly look a great deal better than they did when they arrived. Debbie McBride, who helped work with the horses, provides her take on them.
Copper is approximately 15.2 hands and 16 years old, a big-boned bay Saddlebred. He looks like he'd be fun to ride. He would probably need an intermediate rider because he is big and his trot is bold and lofty. He's a sport horse-type Saddlebred who would probably do well on trails for a rider who likes a heads-up kind of guy. He may have been shown. He likes kids and will ride them around, but isn't as willing with adults.
Golden Boy is a chestnut Arabian stallion and would be a great gelding. He has a loving personality. He may have been ridden bareback, if not formally trained. He has a quiet temperament and is good-boned. He stands 14.2 hands and is 4 years old, extremely quiet and well-mannered for a stallion. He needs to be gelded, and then he'd make a great riding companion.
Spirit is a 3-year-old chestnut Mustang gelding. He stands around 14 hands and probably hasn't had a lot of handling, so he needs someone with experience. He is smart, handy and has come a long way. He's curious and friendly, and easily comes over for a pat, hoping for a carrot. He's nicely built, straight and correct, rugged and adorable, with the potential to make someone a fine little horse.
Star is a dun Paso Fino mare who was basically used as a broodmare since she was 2 years old. She's in her 20s and stands 14.2 hands. This horse is still noticeably thin and needs TLC and an experienced handler. She shows behavioral signs of food deprivation more than any of the others. She's more high-strung than the rest. It's unknown whether she was ridden, so she needs an experienced owner. This mare just needs lots of love from someone able to offer her a wonderful, retired life.
"I'm ecstatic that we found homes for the other nine," said Rosemary MacDougall, an animal care specialist with Palm Beach County Animal Care & Control. "We had a lot of help from the media, the Internet, word of mouth and volunteers. I am so grateful for all the people who showed up and helped with donations of hay, feed, equipment and, especially, their time, helping out with bathing, mucking and handling."
Sue Moline is one of those volunteers who has spent a good deal of time helping care for these horses.
"I've had horses and worked with rescues before," Moline said. "When I heard about this group, I very much wanted to get involved. I went down to Animal Care & Control about three weeks after they'd arrived, curious to see how they were doing. They were still very thin, but they had the potential to be really nice horses. They didn't have bad manners; they just didn't know how to respect people. I didn't have a lot of extra money to donate for their care, but I had time and experience. And these horses needed to be handled."
Moline started going out two or three times a week, working with them and helping them learn. Using natural horsemanship techniques, she got them used to leading, picking up their feet, getting fly-sprayed, lunging and yielding to pressure. She found it a very rewarding experience.
"I hope these last four find good homes," she said. "That would be wonderful. They deserve to be someone's special horse."
For more information, call (561) 233-1200 or visit www.pbcgov.com/animal.