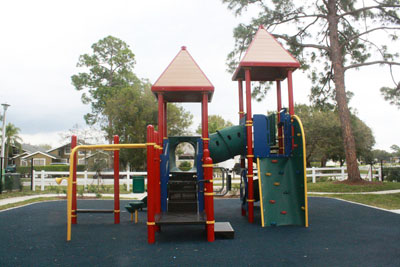 More than a year after Wellington closed Goldenrod Road's access to Azure Avenue, children in the community have a new park.
Goldenrod Park was completed in January and will be officially dedicated later this month, Wellington Community Services Director Nicole Evangelista said.
"The park is currently usable by the community," she said. "But the official grand opening and dedication ceremony is being planned for later this month."
In July 2011, the Wellington Village Council voted to close Goldenrod Road at the C-6 Canal. The controversial decision cut off access by children in the Goldenrod community to nearby Azure Park, concerning many residents.
The new park was part of the road closure plan, Evangelista said. "The council wanted a park for the community that would be a safe place for children to play," she said.
Constructing the park, located on a formerly vacant piece of property on Goldenrod Road just east of Hyacinth Place, cost nearly $200,000. It features a playground with two slides, monkey bars and a climbing apparatus. There is also a covered pavilion and a half basketball court.
"They really did a great job," Evangelista said. "There are also water fountains and benches so the community can go out and enjoy."
She said the amenities were chosen based on what residents wanted.
"We went out to the community and asked them what they wanted to see on the site," Evangelista said. "We tried to incorporate them into our design as much as we could."
The park provides much-needed recreational relief for the area.
"There are lots of kids in the area," Evangelista said. "We hear they're using the park quite frequently, so we're anxious to have the dedication ceremony."
Information about the dedication ceremony will be available at www.wellingtonfl.gov once a date in finalized.
Until then, the park is open and ready for use. "We're really excited about it," Evangelista said. "It's beautiful, and we're excited to see that the children are already making great use of it."
ABOVE: One of the play structures at Wellington's new Goldenrod Park.