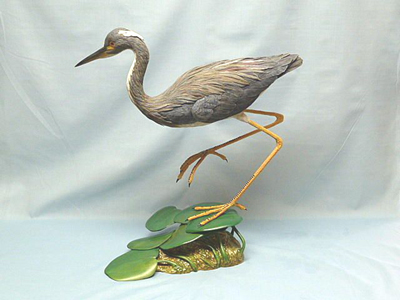 Clay-Glass-Metal-Stone Gallery features two of its most recent artists and one overwhelming old-time favorite as it presents works of finely crafted wooden pieces and lamp-worked (or spun) glass figures.
As the nonprofit artist cooperative begins its last month at the 605 Lake Avenue location in downtown Lake Worth, it has planned a whirlwind of special events, starting with "Wooden Fantasies with a Touch of Glass," which will take place on Friday, March 1 from 6 to 9 p.m. The event is free and open to the public.
Loxahatchee artist Eric Codner, crafter of finely made jewelry boxes, tables and mirrors, employs local and exotic woods in his work. A self-taught woodworker who has honed his craft over a 20-year period, Codner's works are as pleasing to the eye as his finishes are to the touch. He works in the style of Queen Anne, Chippendale, Federal and Arts & Crafts. Perfection in execution and visual beauty are trademarks of Codner's work. Using hand tools gives him the freedom to create without the limitations imposed by machinery. Clear finishes bring out the natural beauty of the wood.
David Cericola, master woodcarver, creates birds that are so lifelike that the gallery has been asked if they are products of taxidermy. Each feather is carved to perfection. Each bird appears to be live and in its natural setting. Complementing the carved wood is exquisitely formed metal work for the legs and vegetation. Because of the many months it takes to create each work, when one sells, it is not immediately replaced. Each new carving is of yet another bird living in the Florida wetlands. No birds are ever repeated.
Wayne Smith has become a glass-spinning one-man show at the CGMS Gallery. In demand for demonstrations, he sits outside the gallery, creating fantasy figures, animals of all kinds and sailing ships. Smith quickly dispels the notion that he is a glass blower by demonstrating the art of spinning. Those with pets bring him pictures, and within a few minutes, Smith recreates the animal in glass. Collectors of pigs, ducks or dragons try to stump him, but all fail as the collectable appears before their very eyes.
Clay-Glass-Metal-Stone Cooperative Gallery is sponsored by the Flamingo Clay Studio, a nonprofit arts organization whose mission is to provide affordable studio and gallery space for three-dimensional artists. The gallery is located at 605 Lake Ave. in downtown Lake Worth. Hours are Wednesday through Sunday, 1 to 9 p.m.
Gallery openings are held the first and third Friday of each month from 6 to 9 p.m. For information, call the gallery at (561) 588-8344 or visit its web site at www.clayglassmetalstone.com or its blog at cgmsgallery.blogspot.com.
ABOVE: Master woodcarver David Cericola created this tricolored heron.