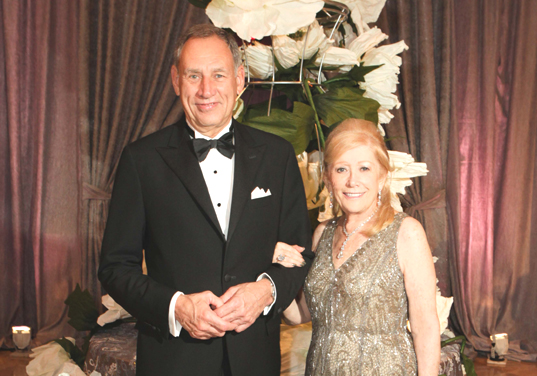 More than 400 elegant guests donned their most dazzling attire Feb. 9 for the 2013 Cleveland Clinic Florida Ball at the Mar-a-Lago Club in Palm Beach.
Thanks to the leadership of Dare to Dazzle chairwoman Sydell Miller and her daughter, Lauren Spilman, this year's event raised an impressive $1.1 million to enhance and advance the premier medical programs and services offered at Cleveland Clinic's West Palm Beach and Weston locations and support future expansion plans in Palm Beach Gardens and Parkland. Their efforts were aided by vice chairs Bruce and Lori Gendelman, Judith Murat Grubman, Patrick M. Park and Raymond G. Perelman.
The Dare to Dazzle theme was successfully carried through in all aspects of the event, starting from the beautiful décor lining the walkway to the surprise entertainment at every corner. Models who sparkled from head to toe flanked the entrance to the ballroom decorated with colorful pieces of modern art and mirrored by awe-inspiring living statues. The musical entertainment was provided by the sensational sounds of New York's famous Starlight Orchestra.
A special highlight of the evening was the presentation of the Sydell L. Miller Award. Dr. Delos "Toby" Cosgrove, CEO of Cleveland Clinic, presented the award to Patrick M. Park for his loyal dedication to supporting the organization's mission of bringing world-class care to its patients.
Seen dazzling around the dance floor were Donald Trump; Dr. Bernie Fernandez, CEO of Cleveland Clinic Florida; Martha and Melvin Aronson; Lynda and Jeffrey Jacobs; Suzanne and Robert Tomsich; Trisha and Jeff Cole; Beth and Sean Lang; Kathryn and Leo Vecellio; Suzanne and Joe Hickey; Mindy and Bob Rich; and Nancy and Gene Beard.
For more information on Cleveland Clinic Florida, visit www.clevelandclinicflorida.org.
ABOVE: Dr. Toby Cosgrove and Sydell L. Miller. Courtesy Lucien Capehart Photography