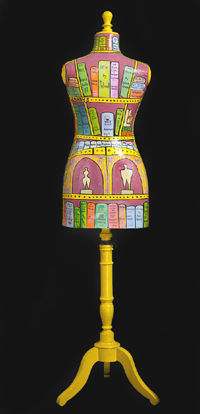 The Cultural Council of Palm Beach County presents "Artist as Author," an exhibition and lecture series by artists of various creative disciplines who are authors. Original works by these Palm Beach County artists and the books they created will be on display and for sale in the Cultural Council's gallery and Uniquely Palm Beach Store throughout the exhibition from March 16 through May 18 at 601 Lake Ave. in Lake Worth.
A lecture series component, offering guests the chance to meet the artists exhibiting, and to ask them questions about their works, will take place at 3 p.m. on three special dates: April 2, April 16 and April 30 at the Cultural Council of Palm Beach County. Admission is free for members and $10 for nonmembers. Seating is limited, so RSVP is required at https://www.surveymonkey.com/s/artistauthorlectures.
Fourteen Palm Beach County artists whose works and books makeup the exhibition "Artist as Author" represent a diverse variety of art mediums, including painting, sculpting, photography, printing, architectural design and interior design.
"We are particularly pleased to present an exhibition with so many prominent and accomplished artists," said Rena Blades, president and chief executive officer of the Cultural Council.
All of the artists exhibiting in "Artist as Author" have published books to expose more people to their discipline with photographs of their works and essays about the meaning and techniques associated with creating them. Others have enjoyed success by writing content for books about topics unrelated, or tangentially connected to their artistic specialty.
The group of artists participating in the exhibition are Harry Benson, celebrated photographer; JoAnne Berkow, realist painter and gallery owner; Geoffrey Bradfield, nationally recognized interior designer; Carlos Castellanos, syndicated cartoonist; Nancy Ellison, celebrity portrait photographer; Stephen Gibson, award-winning poet; Bruce Helander, collage artist; John Loring, iconic design director emeritus at Tiffany & Co. and silk screen artist; John Mercurio and Andrew Kato, award-winning composer/lyricist and concept developer; Edwina Sandys, renowned painter and sculptor; Barry Seidman, still life photographer; Jeffery W. Smith, recognized architect; and Sandra Thompson, a Palm Beach painter.
The Cultural Council is Palm Beach County's official arts agency and serves nonprofit cultural organizations and professional artists throughout the county. The Cultural Council's responsibilities include marketing the county's cultural experiences to visitors and residents, administering grants to organizations and artists, expanding arts and cultural education opportunities, advocating for funding and arts-friendly policies, and serving cultural organizations and artists through capacity building training and exposure to funders and audiences.
Admission to the Cultural Council is free and open to the public Tuesdays through Saturdays from 10 a.m. to 5 p.m. For additional information about "Artist as Author," visit the Cultural Council's web site at www.palmbeachculture.com.
ABOVE: Edwina Sandys' mixed-media piece Literary Woman.