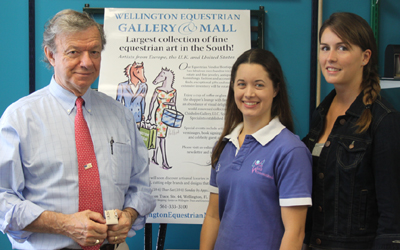 The Wellington Equestrian Gallery & Mall will host a Girls Night Out event Thursday, Feb. 21 from 5 to 8 p.m.
In addition to the gallery's eclectic collection of art, jewelry, bronze statues, antiques and clothing, there will be a special trunk show featuring some additional outside vendors. Guests will be able to enjoy wine and an assortment of cheeses and crackers, while they peruse the tempting merchandise and socialize with friends. Adding an extra twist to the evening's festivities, representatives from Blue Martini in CityPlace will be there to provide everyone with samples of their famous martinis.
During this special Girls Night Out event, the gallery's vendors will be selecting and displaying their merchandise with the "fashionista" in mind. As part of the mix that night, there will be a number of vendors brought in especially for the event.
"We are fortunate to have some vendors from around the country and, actually, from around the world, who will be in town and will be able to join us for our first Girls Night Out event," said Jeanne Chisholm of Chisholm Gallery. "Some of the vendors scheduled to be there are Silk-Chic, with their exquisite silk clothing and Filip & Inna, with their collection of garments adorned with weaving, embroidery and beadwork indigenous to the Philippines."
And to add a literary flair, there will be a dual book signing featuring two local award-winning authors — Beatrice Fairbanks Zayzer, author of Murder for Beauty, and Ava Roosevelt, author of The Racing Heart.
In addition to being a great social night out with the girls, there will be a charitable aspect to the evening. JustWorld International has been chosen as the charity to benefit from this month's event. Jack Van Dell of Van Dell Jewelers, who spearheaded the Wellington Equestrian Gallery & Mall, has donated a pair of diamond horse-head earrings, valued at $1,500, to be offered as a raffle prize. "We are happy to support JustWorld International by donating this pair of earrings," he said. "Through their work, they make such a difference in the lives of children living in impoverished communities around the world."
Ambassadors and volunteers from JustWorld International will be selling raffle tickets to their supporters in the weeks leading up to and at the Girls Night Out event. All of the raffle ticket sales proceeds will be donated to the organization. The lucky winner's ticket will be drawn Feb. 21, but you do not need to be present to win.
The Wellington Equestrian Gallery & Mall is located in the Courtyard Shops at Wellington Trace and Greenview Shores Blvd. For more info., call (561) 333-3100 or visit www.wellingtonequestrianmall.com.
ABOVE: Jack Van Dell of Van Dell Jewelry with Amber Warren and Caroline De Raemy of JustWorld International.