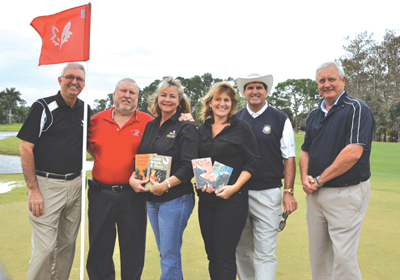 "Bridles and Backswings," a benefit for the Horse Tales Literacy Project, will be held Saturday, March 9 at the Binks Forest Golf Club in Wellington. Registration takes place at 12:30 p.m., and tee-off follows at 1 p.m.
All proceeds will support the Horse Tales Literacy Project's programs, which motivate children to read through the innovative combination of classic works of literature and the magic of live horses.
For more information, contact Shelly LeConte at (561) 252-1432 or e-mail shelly.leconte@horsetalesliteracy.org.
Tickets to "Bridles and Backswings" cost $125 per golfer, $400 foursome or $45 for dinner only. This includes a buffet dinner, live equestrian entertainment, a silent auction and raffles.
The Binks Forest Golf Club is located at 400 Binks Forest Drive in Wellington. For more information, call (561) 333-5731 or visit the Binks Forest web site at www.binksforestgc.com.
ABOVE: Golf Committee Member Bob Still, Golf Committee Chair Ed Portman, Horse Tales Literacy Project Executive Director Glenda Laveck and South Florida Coordinator Shelly LeConte, Golf Academy Owner Kevin Perkins and Binks Forest Golf Pro Wheeler Stewart.