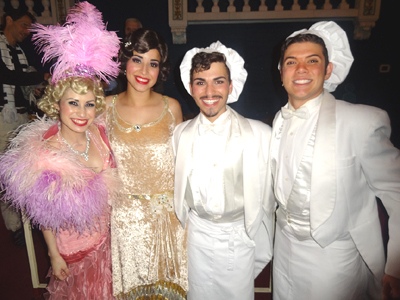 The Lake Worth Playhouse recently wrapped up its final performance of The Drowsy Chaperone to a sold-out crowd for the third weekend in a row. The audience was thoroughly entertained from beginning to end.
Tom Kooch, who played the "Man in Chair," took audience members back to a time when "musicals were musicals." He engaged them and made everyone feel each emotion as he ushered them through the musical numbers, while leading lady Janet Van De Graaff, played by Shenise Nunez, brought everyone back to the days when starlets lit up the stage in fanciful costumes and beautiful musical dance routines. Rick Hvizdak played her love interest, Robert.
The gangsters, played by Keagan Cerny and Andrew Spinelli, had the crowd laughing out loud with their rendition of "Toledo Surprise." And Lake Worth Playhouse regular Ashley Rodriquez played Kitty dead on.
All of the cast members volunteer their time for months of rehearsal and production to put on shows such as The Drowsy Chaperone at the Lake Worth Playhouse.
For information about upcoming shows at the playhouse, visit www.lakeworthplayhouse.org.
ABOVE: Ashley Rodriguez, Shenise Nunez, Keagan Cerny and Andrew Spinelli.