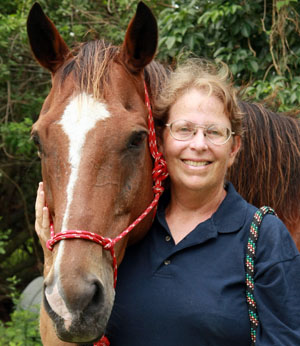 TAILS FROM THE TRAILS
By all accounts, joining a 4-H club is a positive step for any youngster age 8 to 18, fostering responsibility, leadership and community involvement. Plus, it's a ton of fun.
According to the official 4-H web site, the four Hs are head, heart, hands and health, as reflected in their pledge: "I pledge my head to clearer thinking, my heart to greater loyalty, my hands to larger service and my health to better living for my club, my community, my country and my world."
Wendy Wagner knows all about 4-H and the positive results it has in young lives. She has been involved for more than 18 years, first when her kids were members and now as a group leader of the West Pines chapter, located in Royal Palm Beach, along with Katie Wagner, her daughter-in-law, and Heather Draughton, a trainer at nearby Casperey Stables.
"We have a fairly large group of 22," Wagner said. "They come from all over — The Acreage, Wellington, Lake Worth, North Palm Beach, Loxahatchee. We meet once a month on the first Tuesday evening, and then we have monthly clinics out at my barn in The Acreage."
The clinics vary, but are decided upon by the members and always are hands-on affairs involving something to do with horses, for this is a group dedicated to learning more about horse care, riding and showing. Clinic topics have included showmanship patterns and hunt seat equitation patterns. Wagner explained the use of patterns.
"When they attend 4-H horse shows, they're required to ride a certain pattern posted by the judge an hour before the class starts," she said. "It could include any number of skills: posting without stirrups, riding a figure-eight, changing diagonals, stopping and backing, turns on the forehand or haunches. They have to be done in a certain sequence, so the riders have to be well prepared to do a lot of different maneuvers."
Although many of the group members own their own horses, that's not a requirement. They can borrow or lease a horse, take weekly lessons or just hang out with the other kids and ride now and then.
"But we do a lot of riding," Wagner stressed. "Other 4-H groups are into a lot of different things like horticulture, sewing or computers. This group is into horses."
The kids run the meetings and decide what projects they want to get involved with. They also do their own fundraising, which helps defray the cost of showing. They show against other groups in the area, designated Area F, which includes Palm Beach, Broward, Miami-Dade, Collier, Glades and Hendry counties. Each group hosts a show, and the other groups attend.
"The local shows are qualifying events," Wagner explained. "The top percentile point earners go on to the state show in Tampa in July, and then the top winners there advance to the regionals."
Wagner can't say enough good things about 4-H and her group, which is part of the larger Palm Beach County 4-H organization run by the University of Florida.
"Joining a 4-H club is a wonderful thing for any kid," she explained. "When they're a member of a club like this, it fosters a lot of positive peer reinforcement to make better choices. They don't get into trouble. It's kinda hard to party all night and then get up early to feed and care for your horses. Plus, there's a huge community service component. We do things like beach cleanups and visiting nursing homes."
The kids run their own meetings and set the agenda. "They learn to be team members and help each other out. They show responsibility in getting their horses ready to go in the show ring," Wagner said. "They have to do it all. It helps make them more outgoing and able to respond well to all sorts of unusual circumstances. There's so much more to it than just having fun with horses. I'm very proud of our kids."
And the best thing about being a group leader?
"I get to watch them grow and develop year to year," she said. "I like seeing the camaraderie and the improved teamwork between the kids and the horses. And I love watching them find ways to help each other and the community. That's what it's all about."
The official 4-H web site bolsters Wagner's claims about keeping the kids out of trouble. According to a study done by Tufts University, members of 4-H are nearly two times more likely to get better grades in school and plan to go to college, less likely to engage in risky behaviors, and more likely to positively contribute to their families and communities.
Brianna Alvarez, 17, is the group's president. She has been a member for five years.
"I like it a lot," she said. "It's a lot of fun. I like being with the other kids, because we have a lot in common and all love horses. The clinics are cool. I'd recommend this group to anyone who's interesting in learning more about horses."
Fifteen-year-old Tierney Boyle has been a member of West Pines for six years and is the county council representative, attending the county meetings with other local groups.
"I like attending the clinics a lot," she said. "We learn a lot of new stuff. It's fun running our own meetings and choosing what we want to do. Our voices get heard. I'm so glad I'm involved. I've met a lot of great people. It's changed my perspective. I see things more positively."
"Anyone who might be interested should give me a call and come out to see what we do," Wagner said. "We're always looking for new members."
For more information about this group, call Wendy Wagner at (561) 723-9544.