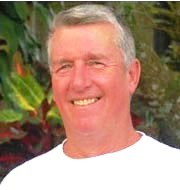 Would-be Loxahatchee Groves Town Council Seat 4 challenger L.W. Lucas has pulled out of the race, leaving Seat 4 incumbent, Mayor Dave Browning, unchallenged.
The departure of Lucas from the race, confirmed this week by town officials, means that Browning (shown above) has been automatically re-elected, and his name will not appear on the ballot.
Only the Seat 2 candidates, incumbent Vice Mayor Jim Rockett and challenger Todd McLendon, will be on the ballot during the March 12 election.
Browning said he is thankful for being granted another three-year term and plans to keep his focus on town business.
"It makes it a little easier," he said. "I'm going to represent the people the same, whether I have somebody running against me or not, but I'm in it for the next three years, and I will continue to do the best I can to represent the people of Loxahatchee Groves."
Browning said he has fielded many calls of encouragement, offering him support should he have been challenged. "At the same time, it takes some weight off if you don't have to go through the election and the debates and all that," Browning said.
The Central Palm Beach Chamber of Commerce plans to host a forum and meet-and-greet for the Seat 2 candidates Rockett and McLendon, but a date had not been set as of press time.