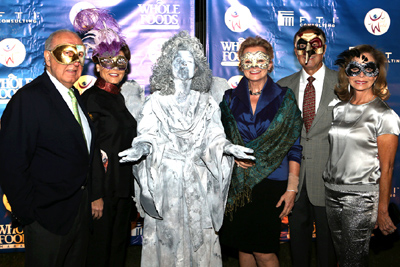 The 10th annual JustWorld International Gala was held Friday, Jan. 18 at the Belle Herbe Farm in Wellington's Grand Prix Village. The night was alive with mystery as the national and international equestrian communities came together for a brilliant masquerade.
The ambiance of the evening was that of a European Renaissance painting. With more than $420,000 raised for the nonprofit organization, it was JustWorld's most successful gala to date. The celebratory evening included heartwarming presentations, an elegant dinner with gourmet food stations, and silent and live auctions.
Belle Herbe Farm was transformed into the Venetian destination of dreams. With the help of Regency Party Rentals & Production, a massive tent was erected in the grass field, and a red carpet welcomed guests.
The night would not have been possible without presenting sponsor FTI Consulting Inc., as well as Caryl Philips and Frank Zeiss. Whole Foods Market of Wellington sponsored the food for the evening, donating hors d'oeuvres, main entrées and dessert for the party of more than 650 guests. Liquor and wine was provided by the Grille Fashion Cuisine, Oli's Fashion Cuisine and the Seahorse Fashion Cuisine group of restaurants.
Following the opening remarks, Rocco Mangel, owner of Rocco's Tacos, stepped up to serve as master of ceremonies for the event. He introduced the event with MBPtv's beautifully documented video describing JustWorld and the work they do across the globe. He then introduced the JustWorld ambassador-driven initiative Team Challenge, donating $1,000 himself to the teams.
Guests in turn raised their hands to donate to their favorite team, benefiting impoverished children in Honduras, Cambodia and Guatemala.
Christie's professional auctioneer George McNeely stepped up to the podium next. With his assistance and charisma, the live auction was a huge success.
For more information on JustWorld International, visit the organization's web site at www. justworldinternational.org.
ABOVE: Frank Zeiss, Caryl Philips, Robynnn Parski, and Jane and German Fernandez.