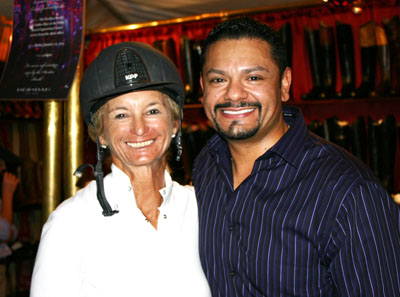 The Der Dau booth on vendor row at the Palm Beach International Equestrian Center came alive on Jan. 24 with upbeat music and merriment. The star-studded celebration was held in honor of the launch of the ultimate custom-made boot for the active professional and amateur rider — the Dream 2 Grip Boot. Guests feasted on delicious Cuban cuisine, smoked cigars and had the opportunity to try the hookah pipe.
"I love hosting parties for our clients and friends," said Joseph Der, president of Der Dau. "It is always a treat to see everyone. We are excited to see the reaction to our newest boot."
On hand to enjoy the music, great company and festivities were such notables as international grand prix show jumping super star Debbie Stephens, Venezuela's Pablo Barrios, Columbia's Mark Bluman, Canadian Olympians Ian and Amy Millar, Olympic eventer Karen O'Connor, Gustavo Mirabal of G&C Farms, and many more.
"I love working with Joseph," Stephens said. "He is a visionary. He's always asking the riders, 'What can I do to make it better?' We wear our boots sometimes from six in the morning to after the grand prix is over. What shoes do you walk in that are that comfortable that long?"
The Dream 2 Grip Boot is a breakthrough in riding apparel technology. The butter-soft but extremely durable Dream 2 Grip Boot offers all of the features of the popular Dream Boot — double-paneled, inner leather lining, full length elastic, arch support with memory foam and cemented and stitched soles — but also prevents wear and tear to the inside of the calf and ends wear where the calf meets the panel of the saddle, extending the life of the saddle.
Equestrians are encouraged to stop by the Der Dau booth at the Winter Equestrian Festival in Wellington, HITS Ocala and at HITS Thermal in California to see the innovative boot first hand. Stay tuned for another Der Dau party at WEF in March.
For 50 years, New York–based Der Dau has been making high quality, custom boots and shoes by hand. The Der Dau craftsmen create perfectly fitted, second-skin boots and shoes through an unparalleled, exacting process. Founded by José Der, the family business is now led by his son Joseph Der with passion and vision. The company prides itself on its commitment to excellence, hard work and dedication.
The quality and beauty of the Der Dau boots and shoes have made them a favorite of celebrities and top equestrian competitors. Debbie Stephens, Ian Millar, Margie Engel, Eric Lamaze, Jessica Springsteen and Betsy Steiner all ride in Der Dau custom boots.
For more information, visit www.derdau.com.
ABOVE: Rider Debbie Stephens with Der Dau's Joseph Der.