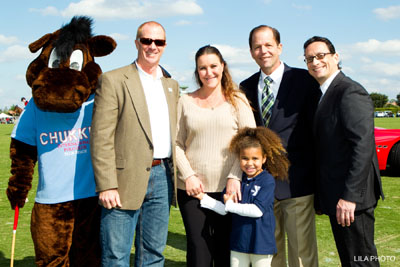 An action-packed day of polo had three cup titles being awarded with two at the 26-goal level and one in the International Polo Club's final 20-goal tournament of the year.
Two years ago, Lechuza Caracas scored an 11-7 win in the finals of the C. V. Whitney Cup over a Hawks team led by Mariano Aguerre and Julian Mannix. This year, Aguerre and Mannix exacted their revenge as they captured the 2013 C.V. Whitney Cup championship in a 14-10 win Sunday afternoon.
After tying in the first two chukkers, 2-2 and 4-4, Alegria combined two goals in offense with shutout defense for a 6-4 halftime lead.
On the strength of a pair of goals from Facundo Obregon, Alegria extended their lead to three goals, 8-5, in the fourth, and led by four goals, 12-8, after the fifth. Alegria matched Lechuza goal for goal in the final chukker, with Alegria taking the game and the tournament trophy in a 14-10 victory.
Obregon set the pace for the day with eight goals, all on penalty shots, and was named MVP for his efforts. Ulloa added three goals for the win with Aguerre scoring twice and Mannix getting credit for a single goal. Ulloa's 7-year-old chestnut American Thoroughbred mare Mia received Best Playing Pony honors. Pieres led the Lechuza attack with four goals. Vargas was credited with three goals. Nero scored twice and Elizalde registered a single goal in the loss.
In the morning opener, the much-anticipated final of the 2013 Iglehart Cup fell apart when Crab Orchard withdrew from the competition, allowing the team they beat in the semifinals, Port Mayaca, to advance to the finals against Villa Del Lago.
Villa Del Lago had to spot the 19-goal Port Mayaca team one goal by handicap, but an aggressive Villa Del Lago offense took advantage of a number of fouls to run up a 7-5 halftime score, a two-goal lead that would stand up until the final chukker when a Port Mayaca rally would fall a goal short in the 13-12 Villa Del Lago victory.
Trailing 11-9 after the fifth, Port Mayaca made a run for it in the final chukker. Single goals from Arellano and Marianito Obregon tied it up at 11-11. Guille Aguero scored the go-ahead goal for Villa Del Lago, 12-11 in the waning moments of the period, but an Arellano penalty conversion locked it up again at 12-12. Fittingly enough, Laprida's 11th goal of the match carried Villa Del Lago to the 13-12 victory in the final 20-goal tournament of the season.
Laprida registered eleven goals on the day, seven on penalty conversions, and received MVP honors. Teammates Aguero and Agustin Obregon added single goals for the win. Arellano and Marianito Obregon scored five times each for Port Mayaca. Stevie Orthwein added a goal in the loss. Stevie Orthwein's Hazard was named Best Playing Pony.
In a noon contest, Orchard Hill registered an 11-10 win in the 26-goal Lester Armour Cup, the subsidiary to the C.V. Whitney Cup.
Orchard Hill jumped out to an early 4-1 lead after the opening chukker, but ERG stormed back in the second period to tie it up at 5-5. Eduardo Astrada scored twice in the third, while Orchard Hill was unable to get on the scoreboard. ERG led by two at the end of the first half, 7-5.
Brazilian 8-goaler Rodrigo Andrade scored the only goal of the fourth chukker as Orchard Hill cut the ERG lead to a single goal, 7-6. A four-goal fifth period turned the tables on ERG as Orchard Hill surged ahead, 10-8. A final chukker rally by ERG fell short as Orchard Hill celebrated the 11-10 win.
Matias MacDonough scored seven goals on the day (six on penalty shots). Andrade added three goals to the mix, and Van Andel accounted for a goal in the victory. Merlos led the ERG offense with six goals (two on penalty conversions) and was named MVP. Astrada was credited with three goals and de Narvaez scored once in a losing effort. Matias Macdonough's Barrista was honored as Best Playing Pony.
The second leg of American polo's "triple crown," the USPA Piaget Gold Cup, gets started this week.
High-goal polo action takes place every Sunday through April 21 at the International Polo Club. Ticket prices for Sunday polo range from $10 general admission to $120 box seating. Tickets for Sunday brunch at the Pavilion and its reception start at $55, upward to $330 for the Veuve Clicquot brunch package for two. Tickets can be purchased online at www.internationalpoloclub.com, or by calling (561) 204-5687. Find IPC on Facebook, follow on Twitter at @SundayPolo or visit www.ipcscoreboard.com for up-to-date scores, schedules, rosters and all other polo info.
ABOVE: Chukker with YMCA Chairman Dr. Scott McCranels, Shallyn & Shan Robinson, John Wash and Lou Galterio.