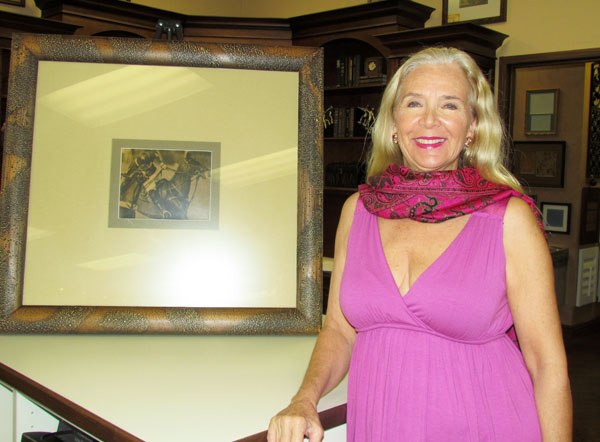 Fine art photographer Barbara Sloan will host her annual art show Wednesday, March 27 from 6 to 8 p.m. at Frames America inside the Wellington Interior Design Center.
Sloan will display her equestrian-themed photography throughout the center and share details about particular pieces.
"Since it's in a new venue from the previous years, we have more space," Sloan said. "We will be incorporating the photography into the overall design theme of the center."
The event is a way for equestrians who are designing their homes and looking for art to take a look at her work. "That is what's great about doing it here at the new design center," she said.
Weather caused turnout problems at last year's event, and many people didn't have the opportunity to view the show. "We had a good turnout, but the rain prevented many other people from coming," Sloan said.
That's why this year, along with Sloan's new work, she will be displaying some of the art pieces from last year for those who missed out.
For 40 years, Sloan, an international photographer and equestrian, has been capturing photos of horses and their unique beauty. Through fine art photography, Sloan aims to keep the raw and natural look and feel of the photos' elements.
"People see me photographing and say, 'Is that a real camera with real film; oh my God!'" she said. "It's getting more and more difficult to buy the film and get it processed."
In her darkroom, Sloan develops her own film. "I enjoy being in the darkroom and seeing the photos come to life with all the textures," she said. "It's just a wonderful feeling."
Sloan also uses creative printing techniques at which she has become highly skilled.
"I really like the organic tinting of my work," she said. "It's an ancient technique of organically staining the prints."
Through this technique, the photos are given a special, unique character that Sloan finds intriguing. "It gives it a patina [of a] glistening look," Sloan said. "If you put a spotlight on one of the pictures, it looks like it has diamonds on them and a metallic look that this stain gives them."
Sloan's pieces focus on equestrian life in Florida. "Polo, hunter, jumpers and dressage horses," she said. "I've tried to keep those themes, which are peculiar to the Florida area."
Sloan is working on accomplishing her career goal of going around the world taking photos of horses. "In some places, I have had to photograph a seahorse, like in the Caribbean, where in some places there weren't any horses that I could see," she said.
Before visiting a country, Sloan does research about its equestrian-related history. "I find out if they have a national horse or if it's famous for a particular horse," she said.
In December, Sloan traveled to photograph the polo championships in Argentina. "They have probably the best polo horses in the world and the best breeding country in the world," she said.
Sloan plans to display some of her work from her trips in future shows and books once she has completed her travels.
Sloan's artwork will be available for purchase. Frames America will provide custom framing.
The Wellington Interior Design Center is located at 9312 Forest Hill Blvd. in Kobosko's Crossing. For more information, call Frames 0America owner Michael Gordon at (561) 790-1777.
ABOVE: Fine art photographer Barbara Sloan with one of her unique horse images.