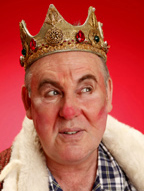 The curtain will rise on Eugene Ionesco's absurdist classic Exit the King when Palm Beach Dramaworks resumes its 2012-13 season on Friday, March 29 at the Don & Ann Brown Theatre, located at 201 Clematis Street in downtown West Palm Beach.
This comic romp will play a strictly limited engagement through April 28, with specially priced preview performances slated for March 27-28.
The subject is mortality in this funny, life-affirming play. The incompetent, 400-year-old King Berenger learns that he has just 90 minutes to live; he is told he will die at the end of the play. But he will neither give up control of what's left of the kingdom he has brought to ruin, nor accept the inevitable and come to terms with his imminent death. Not surprisingly, mayhem ensues.
Exit the King is one of four plays Ionesco wrote between 1958 and 1963 that make up the "Berenger Cycle." It was preceded by The Killer and Rhinoceros, and followed by A Stroll in the Air. When Exit the King was staged on Broadway for the first time in 1968, Clive Barnes wrote in The New York Times, "It is the most personal and moving of all Ionesco's plays, and… incomparably his greatest work."
Palm Beach Dramaworks' production will be directed by William Hayes and feature Colin McPhillamy as the inept monarch. The cast also includes Jim Ballard, Claire Brownell, Elizabeth Dimon, Rob Donohoe and Angie Radosh. Set design is by Michael Amico, costume design by Leslye Menshouse, lighting design by John Hall and sound design by Matt Corey. Lynnette Barkley will serve as assistant director.
Ionesco (1909-1994) was one of the foremost playwrights of the "Theatre of the Absurd." He often rejected logical plot and character development, and created his own form to explore the insignificance of human existence.
Ionesco wrote 28 plays, including The Bald Soprano, The Lesson and The Chairs.
Palm Beach Dramaworks' spring season will conclude with Dancing at Lughnasa by Brian Friel (May 24 – June 16).
For 13 years, West Palm Beach's only professional, multi-award-winning resident theatre has brought to the Palm Beaches a distinguished roster of plays under the guidance of Producing Artistic Director William Hayes.
Palm Beach Dramaworks is a nonprofit, professional theatre and is a member of the Theatre Communications Group, the South Florida Theatre League, Southeastern Theatre Conference, Florida Professional Theatres Association, Florida Theatre Conference and the Palm Beach County Cultural Council.
The performance schedule is as follows: evening performances are Wednesday through Saturday at 8 p.m. and Sunday at 7 p.m. Matinee performances are on Wednesday, Saturday and Sunday at 2 p.m.
Individual tickets are $55 for all performances. Preview performances are $47 and opening night tickets (March 29) are $70. Student tickets are available for $10. Group rates for 20 or more and discounted season subscriptions are also available.
The Don & Ann Brown Theatre is located in the heart of downtown West Palm Beach at 201 Clematis Street.
For ticket information, call the box office at (561) 514-4042, open Monday from 10 a.m. to 5 p.m., Tuesday through Saturday from 10 a.m. to 6 p.m., and Sunday from 11 a.m. to 5 p.m., or visit www.palmbeachdramaworks.org.
ABOVE: Colin McPhillamy in a scene from Exit the King. Photo by Carol Rosegg