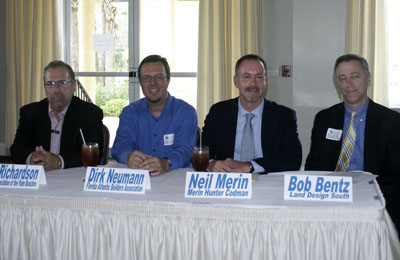 At Monday's Central Palm Beach County Chamber of Commerce luncheon, real-estate leaders said the market is showing strong signs of recovery, although the improvement is limited by remaining land to develop.
The luncheon took place at the Madison Green Golf Club in Royal Palm Beach.
Bill Richardson, managing broker of the Keyes Company of Boca Raton and Delray Beach, an expert in distressed-property sales, said 2012 year-end statistics are promising.
"Pending sales have been trending up," Richardson said. "We see a serious increase in sales activity, pending sales and closing sales in the last six to seven months — enough that we're considering this a real trend."
He said the county's inventory of available property, which he regards as key to gauging the market's health, is about 5.9 months. "If you want to contrast that, in late 2009, we were in a 33-month supply of inventory."
Richardson added that inventory is a snapshot that measures supply (the inventory) and demand (sales). Six months indicates a balanced market; anything under six months indicates a hot sellers' market, he said.
"We are no longer in a buyers' market. For the first time since 2006, there is an increase in the median price," he said, adding that home prices in Palm Beach County in 2012 rose around 8.5 percent. "So the good news is that's turned around."
Closed sales in January 2013 for single-family homes in the county are up 19.3 percent over 2012, with about 50 percent being cash deals, he said. New pending sales are up 91.4 percent.
"Something that we've seen over the last six to seven months is that pending sales are way outpacing the closed sales," Richardson added, explaining that some pending sales collapse and short sales take longer to close.
He believes 2013 will be the year of the short sale, no longer the year of the foreclosure, and noted that the Debt Forgiveness Act was recently extended.
"If you are the primary resident and going to do a short sale, the forgiven debt the IRS terms as income. Form 982 is your friend; it enables you to exclude that income from your tax return. That most likely will come to a screeching halt at the end of this year," he said.
Dirk Neumann, a board member with the Florida Atlantic Builders Association who recently completed a successful 12-year stint with Minto Communities Inc., said 4,700 new home permits were issued in 2012, almost double the number in 2011.
"That's a 21 percent increase in single-family permits, but the biggest increase was in multifamily, which was up 421 percent," Neumann said. "Townhome construction and apartment construction pretty much came to a halt in Palm Beach County as there were so many affordable single-family homes on the short-sale and foreclosure market. There is such a low supply now that there is room for that, and it has started growing again."
The all-time low in the county was in 2009, when only 1,400 permits were pulled. The all-time high was in 1986, when 23,000 permits were pulled. "That will never happen again; neither will the high during the boom, which was 15,844 permits, the reason being that there is not that much land left in Palm Beach County to develop," he said.
Projections are that about 6,200 permits will be pulled in 2013, and about 7,000 in 2014. "Much beyond that, there probably will not be any significant growth in permits, basically because Palm Beach County will be near build-out of most large pieces of land that are out there."
Most of the large development will take place in the Agricultural Reserve Area, Neumann said. GL homes recently closed a deal for more than 600 lots at a hefty price. Vavrus Land Star Development of Coral Gables bought the 4,763-acre Vavrus property east of Mecca Farms in December. The 700-acre Briger property near Scripps in Palm Beach Gardens is under contract and could have more than 2,000 units.
The 3,900-acre Callery-Judge Grove property, a portion of the 4,400-acre Palm Beach Aggregates and the 858-acre Parcel 19 in Jupiter are other parcels likely to see development at some point, Neumann said.
"This is the new reality. Some of these parcels that were considered a little out there are now coming into demand because the majority of land that was available was spoken for and builders are eager to find the next location," he said. "The limited supply in Palm Beach County is going to drive demand and price."
Commercial real estate expert Neil Merin said the office market for the study area south of Northlake Blvd. and west of Florida's Turnpike did not suffer as much as the rest of the world during the recession.
"The office market out here was based a lot on local serving local tenants," Merin said. "The western communities have fared well. Right now you are running at about 13 percent vacancy rate. The overall county is about 16 percent."
By comparison, he said, downtown West Palm Beach is at 27 percent. "I'd much rather be out here as an owner," he said. "It's a good business environment."
New commercial construction in the western communities is flat; the last commercial building to go online in the area was three years ago, he said. "There's going to be pent-up demand at some point," Merin said.
He thinks the vacancy rate will drop to under 10 percent by 2015. "That's going to prompt new construction," he added.
Retail vacancy, however, is another story. That remains high, Merin said, but it is filling in. "When the recession hit, your vacancy rates went way up and your rental rates way down," he said.
Rents are about half what they were before the recession. "The good news is it looks like it's going to hit bottom because it has been down for so long," he said, adding that about 80 percent of the tenants lost during 2008-09 have been replaced.
There is about 6 million square feet of industrial space in the western communities, which is about 15 percent of what's available in the county. About 750,000 square feet of industrial space is available or becoming available.
"All of this is driven by users bringing employment out here," Merin said. "The wonderful thing about employment is they buy houses."
Landscape architect Bob Bentz of Land Design South said housing will lead commercial development. Housing will be driven by Palm Beach County's population growth — predicted to rise to about 1.6 million in 2025 from roughly 1.3 million now.
Bentz said about 162,000 homes remain to be built in the county, more than half of which will be in the Glades.
"That means we have only about 79 or 80 thousand homes to be built in the eastern part of the county," he said. "You only have about seven to eight years of home supply left… at least the eastern portion of Palm Beach County."
He agreed that the Briger and Vavrus properties will be important players in the residential development market, as well as the 58-acre Gulfstream Polo property on Lake Worth Road west of Florida's Turnpike.
"Two years ago, we showed it to Lennar — zero interest," Bentz said, but a year ago buyers were very interested. "A year later, the price had doubled on that particular property. Things have changed relatively dramatically. Nobody would have guessed this a year ago in Palm Beach County."
ABOVE: Speakers at the luncheon were (L-R) Bill Richardson, Dirk Neumann, Neil Merin and Bob Bentz.