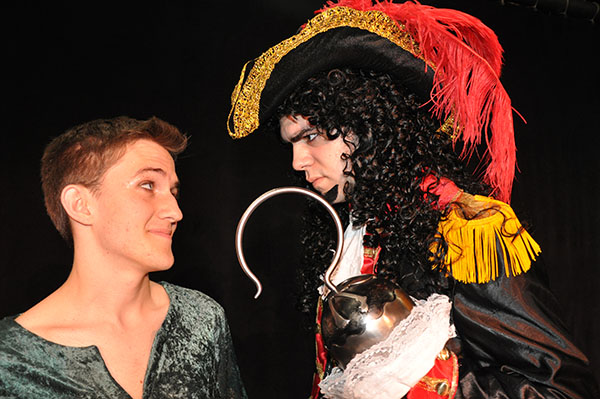 An all-children's cast presents the classic musical Peter Pan April 5-14 at the Borland Center (4885 PGA Blvd., Palm Beach Gardens). The show is produced by KWP Productions and directed by Kimberly Rommel-Enright with musical direction by Helen Buttery and choreography by Jeanne McKinnon.
Come fly away to Neverland in this magical musical tale about the boy who refuses to grow up. Peter Pan and his mischievous fairy sidekick Tinkerbell visit the nursery of Wendy, Michael and John Darling, and with a sprinkling of pixie dust, Peter and his new friends fly out the nursery window and over London to Neverland.
The children experience many wonderful and exciting adventures with the Lost Boys, Tiger Lily's Indian tribe and Peter's archenemy, the dastardly pirate Captain Hook. This production will delight children and adults of all ages with toe-tapping songs and genuine flying.
Written by James Matthew Barrie, a popular British novelist and playwright, it was first performed in 1904 at the Duke of York's Theatre in London to tremendous acclaim. Barrie later adapted the play into novel form, which was first published in 1911. In 1928, the play Peter Pan was published in its final version. In the last 14 years, Piers Chater Robinson's adaptation of Peter Pan has enjoyed many record-breaking seasons in United Kingdom theatres and across the world.
Performances will be April 5 at 7 p.m., April 6 at 2 p.m. and 7 p.m., April 7 at 3 p.m., April 12 at 7 p.m., April 13 at 2 and 7 p.m. and April 14 at 3 p.m.
Tickets are $25 for adults and $20 for students. They are available at www.showtix4u.com or www.kwpproductions.com, or at the box office 30 minutes prior to show time.
ABOVE: Peter & Hook — Taige Mills of West Palm Beach and Alec Ruiz of Wellington.