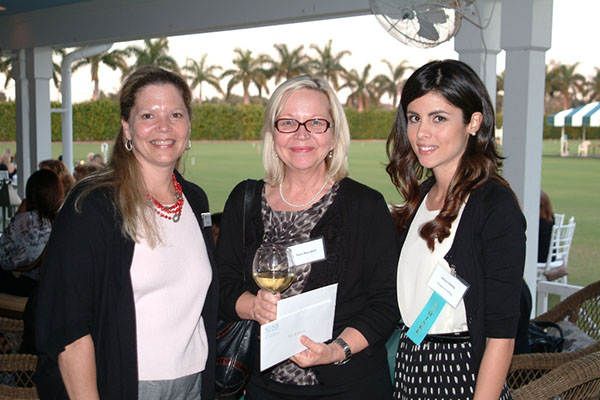 More than 100 of Palm Beach County's top nurses were honored at a cocktail reception at the National Croquet Center on Feb. 28 to recognize Palm Healthcare Foundation's 2013 Nursing Distinction Award nominees.
Hospice of Palm Beach County sponsored the special evening, which is a pre-event for the 11th Annual Nursing Distinction Awards set for May 3 at the Breakers Palm Beach.
Radio personality Sally Sevareid, from Mo & Sally of KOOL 105.5 FM, emceed the event to honor Palm Beach County's dedicated and highly skilled nursing community.
Nominees represent all ends of the nursing spectrum including: registered nurses, licensed practical nurses, nurse educators, nursing assistants and nursing students. A special moment recognizing the impact of Palm Healthcare Foundation's Nursing Education Fund was a presentation of $422 by Erica Davila, president of the Student Nurse Association at Keiser University. Davila had received a scholarship from Palm Healthcare Foundation in the past and used the opportunity to give back.
All of the nominees have made a significant impact in the lives of patients and fellow healthcare professionals. For more information about the Palm Healthcare Foundation 11th Annual Nursing Distinction Awards Dinner, including sponsorships opportunities, call Melanie Otero at (561) 837-2277.
On May 3, 2013 the Palm Healthcare Foundation 11th Annual Nursing Distinction Awards Dinner will bring together more than 450 Palm Beach County healthcare professionals to honor the nursing award recipients. The event features an "Evening in Paris" theme and will kick off National Nurses Week (May 6-12). Awards include the Palm Healthcare Foundation and The Palm Beach Post Nurse of the Year. CBS 12 news anchor Suzanne Boyd will be the mistress of ceremonies.
Presenting sponsors for the Nursing Distinction Awards are Tenet and Vitas Innovative Hospice Care. Media sponsors are The Palm Beach Post and KOOL 105.5 FM.
The Palm Healthcare Foundation, chartered in 2001, is Palm Beach County's leading public healthcare foundation. The foundation's mission is to inspire and fund solutions to improve health in Palm Beach County. Since 2001, the foundation has distributed more than $49 million to over 95 nonprofit organizations in Palm Beach County operating over 130 programs. For more information, visit www.palmhealthcare.org.
ABOVE: Amy Dean of the Palm Healthcare Foundation with Terri Rocafort and Erica Davila of Keiser University. Photo Courtesy Bill Carley