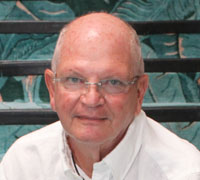 BY JOE NASUTI, THE PHANTOM
Giving back whenever and wherever you can is so self-rewarding, and when people truly appreciate you, it is that much better. For the last four years, I have been supporting the Quantum House, a hospitality house similar to the Ronald McDonald House, on the campus of St. Mary's Medical Center.
Quantum House is a caring and supportive home that lessens the burden for families whose children are receiving treatment in Palm Beach County for a serious medical condition. Children and their families stay for a small fee of $35 a night, but no one is turned away due to an inability to pay. Some 35 years ago, my 9-year-old niece, Nicole, was in need of treatment hundreds of miles away, we stayed at a Ronald McDonald House. She lost her fight, thus my involvement is in her memory — and that makes it very personal!
A core of volunteers help by cooking dinner almost every night. Last week, myself and gourmet health cook, Dr. Daniel Fortunato arrived for our turn. As soon as we got there, 7-year-old Alisa from Moscow offered to help, and she was very persistent! We agreed to have her set the table. We put all 20 plates on one table and turned to cooking the dinner. A few minutes later, Alisa was calling us. When we turned to look, we were amazed… she single-handedly set the table with plates, silverware and napkins, despite her hip and leg brace along with her walker. Beautiful!
Dr. Fortunato and I have been supporting the Quantum House by volunteering at their fundraising events, attending their annual dinners and making financial contributions so Alisa and her family can have a place to stay while receiving treatment. Donors can contribute as little as $35 to house a family for a night, $1,050 per month or $12,775 for an entire year.
If this article found a spot in your heart, then here is what you can do:
1. Contact Quantum House at (561) 494-0515 to find out about volunteering or the Chef for a Day program.
2. Attend one of their many functions. My favorite of all their events is the Taste of Compassion dinner at the Kravis Center, which takes place in June this year. This is a fun-filled event that will leave you saying "pass me more of that and some of that and that" — a truly unique dining experiences I guarantee you will love. It will surely be one of the top dinners of your life!
3. Donate whatever you can to help offset the cost of operating the house, from $35 on up. Then please visit the Quantum House to see your money at work. Warning: once you do, Alisa and her heart-tugging friends from all over the nation and world will melt your heart! By the way, St. Mary's multi-talented medical experts are recognized worldwide, and thus children and their families come from all over to St. Mary's for the needed specialized surgery. Recovery and additional surgeries can take months. For the past 10 years, those children and their families have been staying at the Quantum House, their home for as long as necessary.
For additional information, or the events schedule, visit www.quantumhouse.org.