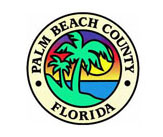 The University of Wisconsin and the Robert Woods Johnson Foundation conduct an annual review of programs that influence the overall health of a community for every county in the U.S.
Palm Beach County remained in the top tier of the 67 Florida counties, ranking 14th in Florida for health outcomes (length of life and quality of life) and moving up to sixth from eighth for health factors (behaviors, clinical care, social and economical, physical environment). "The Florida Department of Health works every day to bring together community partners around shared goals to improve health," said Dr. John Armstrong, surgeon general and secretary of health.
"Promoting optimal health in our community involves a broad spectrum of partners in government, education, business and civic organizations," said Palm Beach County Health Department Director Dr. Alina Alonso. "These rankings give us a good picture on how we are doing as a community."
Many health factors are considered when assessing what can lead to better health outcomes. Palm Beach County ranks third for health behaviors as it continues to trend downward for having fewer adult smokers, lower teen birth rates, better access to clinical care and an excellent physical environment. "I am encouraged by the number of persons dieting and exercising in our community," Alonso said. "With time this should also help reduce obesity."
Further information visit www.countyhealthrankings.org.