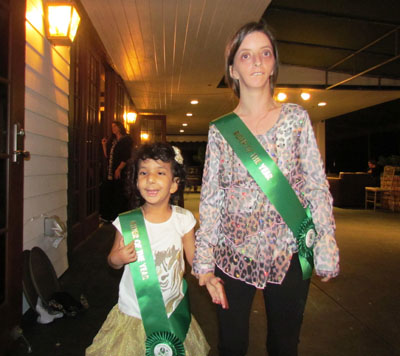 For the past 15 years, the Vinceremos Therapeutic Riding Center has been presenting its top riders with "Rider of the Year" awards. This year's junior and senior honorees are Adison Gobardhan and Heather Pampena.
"We feel like our riding program has made an enormous difference in their lives," Vinceremos Executive Director Ruth Menor said.
Menor founded the organization more than 30 years ago to serve Palm Beach County riders with special needs. The center uses the practice of hippotherapy, a form of occupational and speech therapy that uses equine movements, to help develop its riders.
The executive staff collectively chooses the winners with input from everyone who works with the riders. Vinceremos gives awards in two categories: junior and senior. "We reserve the senior award for an adult rider and the junior for a younger child," Menor said.
The award honors someone who really enjoys riding and has made great strides in his or her therapeutic development. "We save this award for the riders who absolutely love the activity of riding a horse," Menor said. "We have many who like it, but Adison and Heather really love it."
As Junior Rider of the Year, 3-year-old Adison has made significant improvement since she first came to the center more than a year ago. "She was barely able to walk," occupational therapist Heidi Spirazza recalled.
Spirazza has been working with Adison since she arrived at Vinceremos and has witnessed her vast improvements. "She was very weak overall and needed a lot of assistance to stay upright," Spirazza said. "On the pony, she did a very slow walk."
Through various activities, the treatment was able to get Adison to make a greater range of motion. "I would get her to grab her toys and play games," Spirazza said. "I also got her on her horse Misty May, which greatly increased her motion."
Adison is now able to stand on her own without assistance and is able to do much more when she's on a horse. According to Spirazza, she has blossomed and come out of her shell. "Before, she would be a bit shy and always wave and smile at her mother during her 30-minute sessions. But now she has become completely engaged."
Spirazza has worked at Vinceremos for more than a decade and has seen the benefits of using horses for therapy. "It's the magic that the ponies do," she said. "At Vinceremos, they're in a different environment, with a pony and nature."
Adison's mother, Aimee Gobardhan, was thrilled when Menor told her that her daughter had been named Junior Rider of the Year. "I just thought it was the best thing in the world because she has to struggle with things that other kids don't have to struggle with at that age," Gobardhan said.
There is a limited number of activities that Adison is able to participate in. "Sports is not an option at this point because we are still working on getting her stronger," Gobardhan said.
Adison spends most of her free time working on her strength. "When I found out she was the Rider of the Year, it was an awesome feeling because she did it on her own by working hard," Gobardhan said. "She loves riding horses and playing with them."
For Gobardhan, that's the best part of Vinceremos. "She's having fun while doing something that benefits her by making her stronger," she said.
Vinceremos Head Instructor Cassidy Hoff helps older riders achieve their riding goals. For Pampena, a 15-year Vinceremos rider, her goals have been set high. "Now she's much more willing to ride any horse that I give her," Hoff said. "She is much more confident in herself than before, and very willing to learn."
Hoff has been Pampena's instructor at Vinceremos for about a year. After working with Pampena, Hoff believes she's a perfect choice for Senior Rider of the Year. "She's very hard-working and always willing to try something new," she said. "Even if she is nervous about it, she's able to work through it."
Pampena just enjoys being with horses. "Even if she can't get on the horse one day, she prefers to learn how to work with them on the ground than not be around them at all," Hoff said.
When the executive staff asked her what she thought of Pampena's progress, Hoff had much to say. "I told them she has been progressing tremendously in her riding class, and that she's very deserving of this award," she said. "She's come really far since I've started teaching her, and it's a pleasure teaching her."
As Riders of the Year, Pampena and Adison were honored at Vinceremos' annual gala held Feb. 8 at the International Polo Club Palm Beach. They were each given a "Rider of the Year" sash to wear and were brought up on stage and congratulated by the guests.
For Adison, that was a great experience.
"She's a little social butterfly, so anytime she's around people, she just loves it," her mother said. "To be basically the center of attention with a sash on top of it, she was on top of the world."
For more information, visit www.vinceremos.org or call (561) 792-9900.
ABOVE: Vinceremos Riders of the Year Adison Gobardhan and Heather Pampena.