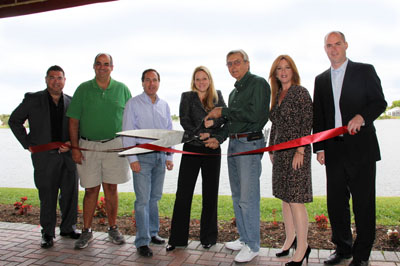 SeaView Eyecare was recently welcomed as a new member of the Wellington Chamber of Commerce. The business is located at 2545 South State Road 7, Suite 10, in Wellington and opened in February. The store is owned and operated by Dr. Amanda Weiss.
If you are looking for a complete eye care facility that offers personalized service and specializes in patients with diabetes, visit Weiss. SeaView fits clients with the perfect glasses and is also an eye care clinic to treat injuries.
Weiss was born in Decatur, Ill. and raised in St. Louis, Mo., where she graduated from high school. She attended Southern Illinois University where she earned her undergraduate degree with a major in biology. Weiss then attended Southern College of Optometry in Memphis, Tenn., where she earned her doctorate degree in optometry in 2004. She also did her residency through the college, associated with the Veterans Affairs Medical Center. She finished a family practice residency in 2005 with an emphasis in ocular disease.
Later that year, Weiss began her career in Port Orange in a specialty practice for glaucoma and retinal disease. During that time, she served as a co-investigator in clinical trials for new treatments in glaucoma and macular degeneration.
In describing her new location in Wellington, she stated that her practice is not just another eyeglass store.
"My practice does comprehensive eye exams, and we examine patients for eye glasses and contact lenses," Weiss said. "We examine patients of all ages, children from age three to mature adults. We accept a number of different vision insurance plans and some medical insurance plans as well. We treat and diagnose eye disease, treat eye infections and eye injuries."
Weiss also has experience with patients who are diabetic and need glasses and contact lenses. "We have a lot of diabetics who come in. That's one of the things I did at the VA hospital," she said. "We had a lot of Vietnam veteran patients who came back with Agent Orange exposure with diabetes, so all of those things have complications with the eye. I'm very comfortable with and often watch patients with diabetes for complications with the their vision and their eyes."
Weiss also has experience with treating patients with dry eye and fitting people with multi-focal contact lenses.
She also works with younger patients. "I'm very good with kids," Weiss said. "When people take their child to the doctor for the first time, kids are scared, parents are a little nervous, and I'm very good at making both kids and parents feel comfortable with the testing we do. We make the exam fun. I've made sure we have the largest selection of children's eyeglass frames in the Wellington area, so there is a lot to choose from."
Weiss noted that her practice is different than other facilities.
"Optometry has changed a lot, and in the past 15-20 years, it has become a lot more retail-oriented," she said. "You have places opening up that are chains and franchises, and those businesses are not without constraint on what they are able to offer their clients. They have only a certain limited selection of lenses to choose from, and they are only allowed to offer those things. I have an advantage, and the patient ultimately has the advantage in me being able to offer specialized products that are more specific for that patient's needs. Other retail chains are unable to do that because they are governed by corporate laws and restrictions. I also have a fantastic staff, and I'm good with people. I'm a people person, and I care. Maybe that sounds cliché but I do."
Dr. Weiss is currently a member of the Young Professionals group within the Wellington Chamber of Commerce. She has also gone to area schools to perform vision screenings for the children.
For more information about SeaView Eyecare, call Dr. Amanda Weiss at (561) 790-7290 or e-mail to info@seavieweyecare.com. Visit their website at www.seavieweyecare.com.
For more information about area businesses, call the Wellington Chamber at (561) 792-6525 or visit www.wellingtonchamber.com.
Above: (Left to right) Noam Weiss, Bob Salerno, Carmine Marino, owner Dr. Amanda Weiss, Mark "Boz" Bozicevic, Joanne Dee, Michael Drahos.