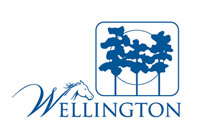 Members of the Wellington Village Council voted last week to allow a 5,000-square-foot medical office along State Road 7 between Stribling Way and White Horse Drive.
At a meeting Tuesday, March 12, council members approved a zoning change for the Family Vision Center, owned by optometrist Dr. Lori Mazza, at the former White Horse Financial Center site.
"This is a request to amend the zoning from a 3,700-square-foot financial institution with three drive-through lanes to medical office space," Long Range Planning Director Tim Stillings said.
The site is located on SR 7 east of the Farmington Estates community, Stillings said.
Don Hearing, agent for the applicant, noted that the site would be back for a conditional use for the medical space but wanted to assure council members that Mazza had been in contact with residents.
"[She] has taken the opportunity to meet with the residents whose homes back up to the property," Hearing said. "We have worked with residents as it relates to screening and buffering, all of which we will talk about when it comes back before you for conditional use."
Overall, Hearing said he thought the medical office was better suited for the site. "I think this is a good amendment," he said. "It would be a reduction in overall traffic intensity. Banks are heavy generators of traffic. I think this would be a good use in front of a residential subdivision."
But Councilman Matt Willhite worried that there could still be traffic concerns.
"I have some concerns," he said. "In the previous plan, there was a direct right-in, right-out. I just want to make sure the change in the driveway will be suitable for safety."
Additionally, Willhite was concerned that motorists might turn into the community rather than the entrance to the medical office. "I want to make sure there is no confusion," he said.
Hearing said that there would be a barrier between the medical offices and the community. "Residents did not want access from the commercial space into their community," he said. "There is a physical barrier."
But he said the traffic would be smooth. "I think it's meant to function very well," Hearing said. "It will bring cars off the roadway quicker."
Councilman John Greene asked how many optometrists would be in the practice.
Mazza said she has herself and one other optometrist currently, with whom she splits shifts.
"It's a one-doctor situation on most days," she said. "But I'm hoping as we expand, we'll move up to two practitioners."
She said she has six employees total but could hire one or two more if the practice expands. Currently, her office is located near Jog Road and Forest Hill Blvd.
Greene asked what brought her to Wellington. "It's nicer out here," she said. "And I wanted the opportunity to own my own parcel."
Willhite asked about restrictions on the types of uses that could go on the site, noting that there is a 1,400-square-foot space designated for eventual expansion. "If it's conditionally being used for medical office, is that the only thing it could be rented for?" he asked.
Stillings noted it could be rented for professional office space as a use-by-right.
Hearing said the plan is to use it for medical office space. "The intention here is medical use," he said. "If we came back to modify it [for professional space], I think that would be fine with you as well. Both uses are desired here in the village."
Willhite said he wants to make sure the space is used for the correct purpose. "I want to make sure it's not rented out for a use we don't really want," he said. "We want to make sure it's fitting for the area."
Stillings said the council could add professional space to the conditional use terms.
Hearing said he would appreciate that.
"If professional office is a desired use and you could provide that flexibility, we would take it," he said. "We think the highest and best use will be medical, but you never know, there could be some other office that might want to use it."
Willhite was concerned about the impact of that second facility on traffic. "It could totally change the idea of what your traffic use is," he said.
Vice Mayor Howard Coates made a motion to approve the zoning change to medical office space with up to 1,500 square feet of professional office space. The motion carried unanimously.